Golden Dragon Attends Macau International Auto Show
2019-10-29 Source:www.chinabuses.org
Summarize:Xiamen Golden Dragon Van Co , Ltd (hereafter referred to as Golden Dragon) brought three latest bus products (XML6105 electric city bus, XML6112 electric bus and Kast XML6700 electric bus) on display, arousing keen interest among the media and visitors
On October 25, Macau International Auto Show officially kicked off at Macau Fisherman's Wharf Exhibition Center, attracting a number of well-renowned auto brands from both home and abroad.
Xiamen Golden Dragon Van Co., Ltd. (hereafter referred to as Golden Dragon) brought three latest bus products (XML6105 electric city bus, XML6112 electric bus and Kast XML6700 electric bus) on display, arousing keen interest among the media and visitors.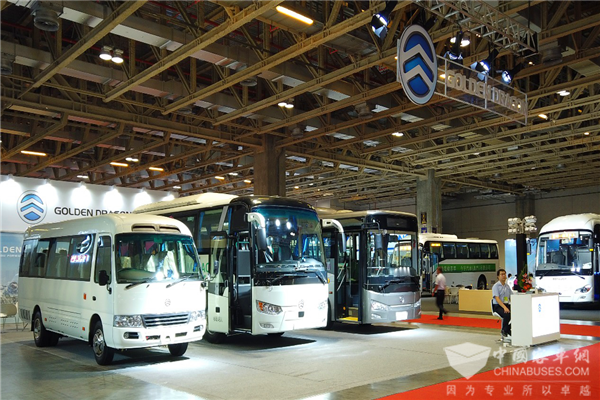 Boasting a higher passenger transportation capacity and higher environmental friendliness, XML6105 electric city bus us chiefly targeted at the urban public transportation in the next few years.
XML6112 electric bus is mainly developed for the passenger transportation market, tourist transportation market and commuting service market. It easily outperforms its rivals in fuel economy, safety standards and travel comforts.
As a fist product of Golden Dragon, Kast XML6700 electric bus has long established a solid reputation in the market. To suit the local driving habit, the driving wheel is mounted on the right side of the vehicle.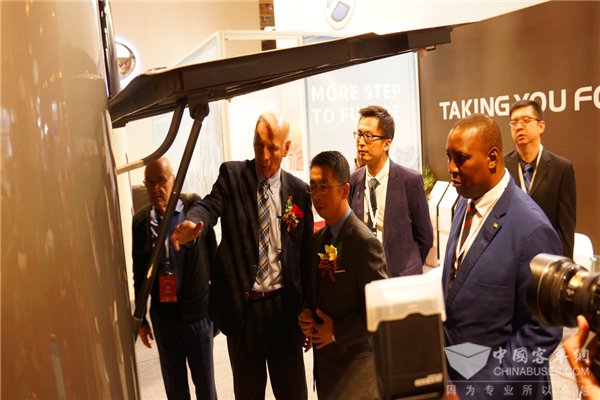 Also at the exhibition, Golden Dragon officially signed a strategic cooperation agreement with Xinhengkang Group. As a well-known auto dealer in Macau, Xinhengkang acts as the sales agent for some auto brands from Europe and Japan. "With over two decades experience in the auto distribution market, we firmly believe that Xinhengkang will greatly help us strengthen our presence in Macau," said An Min, General Manager of Golden Dragon Overseas Sales Company.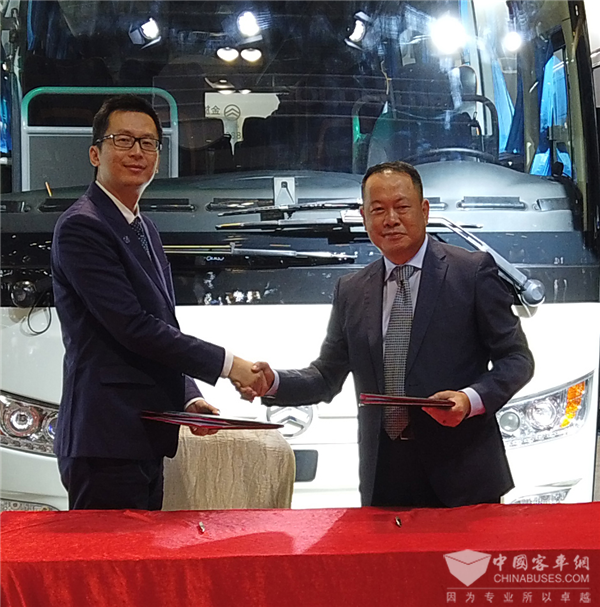 As one of the leading bus makers in China, Golden Dragon officially launched the new energy vehicle development program in 2002. In addition, it has established cooperation ties with a number of prestigious universities, including Peking University, Xiamen University, Tongji University, Beijing Institute of Technology.
Having made technological breakthroughs in a number of areas such as electric buses, hybrid buses, electric motors, electric controls, batteries, it has built state-level Hi-tech Center and provincial level new energy vehicle labs.
Currently, Golden Dragon boasts a wide spectrum of new energy buses, measuring from 4.7 meters to 18 meters in length. They are targeted at all fragments of passenger transportation market. So far, the bus maker has already established a solid presence in over 80 cities across China and a number of countries and regions abroad. Statistics show that almost 30,000 units Golden Dragon buses & coaches are in smooth operation on the road across the globe, providing greener and more comfortable travel services for passengers.
Editor:Mark
Related China Bus News