BYD Attends 2019 Global Public Transport Summit
2019-06-14 Source:www.chinabuses.org
Summarize:On June 10, organized by UITP, 2019 Global Public Transport Summit themed with "the Art of Public Transport" was held in Stockholm, the capital city of Sweden BYD brought its classic 12-meter electric bus on display
On June 10, organized by UITP, 2019 Global Public Transport Summit themed with "the Art of Public Transport" was held in Stockholm, the capital city of Sweden. BYD brought its classic 12-meter electric bus on display.
According to BYD, the bus was manufactured by BYD's first European factory located in Hungary. With whole aluminum body structure, the vehicle has two-door and three-door models available and is able to load 80 passengers at most. With a lighter bodyweight, the vehicle has a storage power of 348 kW.h when fully recharged and is able to drive over 250 km continuously. In addition, it reaches a longer life expectancy and achieves higher safety standards.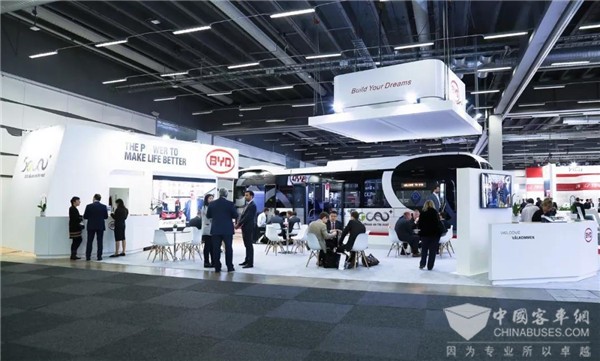 Also worth mentioning is that the bus can be recharged in several different modes, giving bus operators more maneuvering room. Its Intelligent Monitoring and Diagnostic System help bus operators remotely access the vehicle's power driveline. Its Intelligent Power Distribution Management System also closely monitors the internal heat and voltage. Having multiple layers of protective measures for the vehice, the bus fully ensures the safety of passengers and provides more travel comforts for them. With USB portals on board, passengers can recharge their portable electronic gadgets anytime they want. Customers can also choose the color of the vehicle based on the own preferences.
Since the start of this year, BYD has made several breakthroughs in the European market. In May, it delivered its 50,000th unit bus to TUBASA, a Spain-based bus operator. In addition, 15 units BYD electric buses have been operating smoothly in Badajoz in southwest Spain. Apart from Spain, BYD has also established its presence in over 80 cities across 20-plus countries across Europe, including Portugal, Italy, Sweden, etc. Soon, 37 units BYD-ADL Enviro400EV buses will be delivered to London-based Metroline for operation. So far, BYD has won a combined order of over 700 units electric buses, accounting for over 20% of the market.
"Our years' of hard work is paying off," said He Yipeng, General Manager of BYD Europe Co., Ltd. "We now offer our customers a wide range of electric buses measuring from 8.7 meters to 18 meters in length," added Mr. He.
Editor:Mark
Related China Bus News