Yuncheng Women Bus Drivers Speak Highly of CRRC Electric After-sales Services
2019-03-11 Source:www.chinabuses.org
Summarize:According to CRRC Electric, it has three after-sales service stations in Shanxi Song Weiqun, a service engineer often comes to rescue when buses in Yuncheng needed help "He is quite nice, very patient," said one bus driver from Yuncheng
On the No.5 Bus Route in Yuncheng, Shanxi, all bus drivers are women. Having been driving buses made by CRRC Electric, they all speak highly of the vehicles and the bus maker's after-sales services.
According to CRRC Electric, it has three after-sales service stations in Shanxi. Song Weiqun, a service engineer often comes to rescue when buses in Yuncheng needed help. "He is quite nice, very patient," said one bus driver from Yuncheng.
In 2016, Yuncheng Public Transport Co., Ltd. made its first purchase of 60 units 10.5-meter electric buses from CRRC Electric. Since then, Mr. Song has been working closely with all drivers on No.5 Bus Route to to make sure all vehicles work smoothly.
Achieving high reliability, high stability, low noise level, and high energy efficiency, CRRC Electric's 10.5-meter electric buses have long won the hearts of many bus drivers and passengers in Yuncheng and other cities in Shanxi.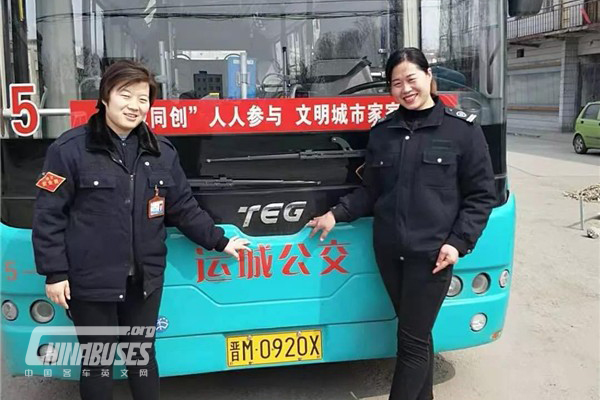 Editor:
Related China Bus News