Foton AUV 2018 Quality Discovery Tour Visits Songz
2018-08-03 Author: Source:www.chinabuses.org
Summarize:Recently, 2018 Quality Discovery Tour made a special visit to Songz Automobile Air Conditioning Co , Ltd (hereaft
Recently, 2018 Quality Discovery Tour made a special visit to Songz Automobile Air Conditioning Co., Ltd. (hereafter referred to as Songs) in Shanghai.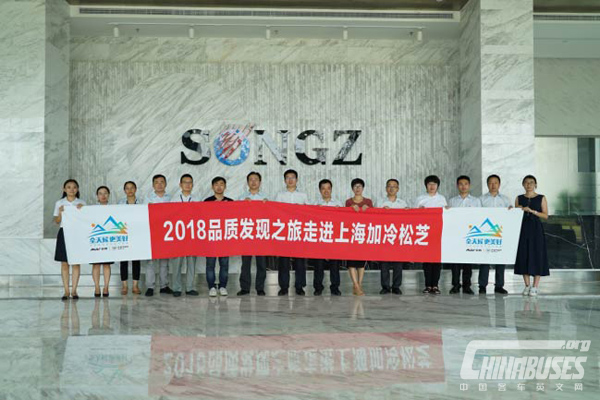 Established in 1998, Songz is specialized in developing, manufacturing and selling air-conditioning systems for automobiles and rail transport and air-conditioning spare parts for automobiles. After two decades development, Songz boasts over 3,000 employees and a market share of 35%. According to Xiong Guohui, Chief Technological Director of Songz Bus Branch, the company now holds 50% of China's bus market and about 80% of China's bus market in China's first-tier cities.
As people's living standards improves, they have much higher demands for travel comforts. Currently, Songz boasts over 300 air-conditioning systems for various types of buses.
In recent years, Songz has been making relentless efforts in developing air-conditioning systems for new energy buses, heat management systems for new energy buses, heat generation solutions for new energy buses, long-distance cloud control system, new environmentally friendly refrigerant.
With state-of-art technologies, Songz has been ranking the first place in China in its sales of air-conditioning systems for automobiles for the past ten years.
In 2004, Foton AUV established cooperative ties with Songz. Since then, the two parties have been cooperating closely in building more competitive buses for customers across the world. Currently, buses jointly developed by Foton AUV and Songz are operating smoothly in Beijing and Qingdao. In cities where the temperatures rise or drop to extreme levels, Songz air-conditioning systems are able to maintain a comfortable temperature for passengers on board.
"We have formed long-term strategic cooperative ties with Foton AUV and over 85% of Foton AUV buses are equipped with our air-conditioning systems. Currently, we are cooperating more closely than ever in developing greener and more comfortable buses for customers," revealed Zhou Xiwang, Director of Quality Department of Songz Bus Branch.
Organized by China Transport News Agency, China Automobile News Agency, Beijing New Energy Vehicle Industry Association, Foton Automobile Group, Foton AUV Bus Branch, 2018 Quality Discovery Tour aims to promote the sound and fast development of China's bus industry. (www.chinabuses.org)
Editor:Ida
Related China Bus News