King Long Apolong Autonomous Driving Bus Goes off Production Line
2018-07-05 Author: Source:www.chinabuses.org
Summarize:On July 4, Create 2018 Baidu AI Developers Conference was held at National Convention Center King Long Apolong once again, become the center of attention at the conference At 10 a m , Robin Lee, CEO of Baidu, went on the stage and connected with the headquarters of King Long in Xiamen Xie Siyu, president of King Long, standing at the assembly line, showed all audience in Beijing the completion of an Apolong Autonomous driving bus
On July 4, Create 2018 Baidu AI Developers Conference was held at National Convention Center. King Long Apolong once again, become the center of attention at the conference. At 10 a.m., Robin Lee, CEO of Baidu, went on the stage and connected with the headquarters of King Long in Xiamen. Xie Siyu, president of King Long, standing at the assembly line, showed all audience in Beijing the completion of an Apolong Autonomous driving bus.
Xie announced that the vehicle was the 100th unit Apolong bus in the world, ushering a brand new era for Autonomous driving vehicle industry in the world. The announcement aroused several rounds of applauses at National Convention Center in Beijing.
After the conference, Apolong Autonomous driving buses will be delivered to some sealed industrial parks in Beijing, Xiongan, Pingtan, Guangzhou and Shenzhen for commercial operation. In addition, they will be exported to Japan to provide greener and more intelligent travel services for local passengers.
Jointly developed by King Long and Baidu, Apolong achieves the highest level of automation among all vehicles in China. Unlike the traditional vehicle, the bus does not have a steering wheel or a braking system. Fully in compliance with L4 Autonomous driving vehicle, Apolong is equipped with the latest version of Apolong system, achieving highly accurate positioning, intelligent sensing and intelligent control.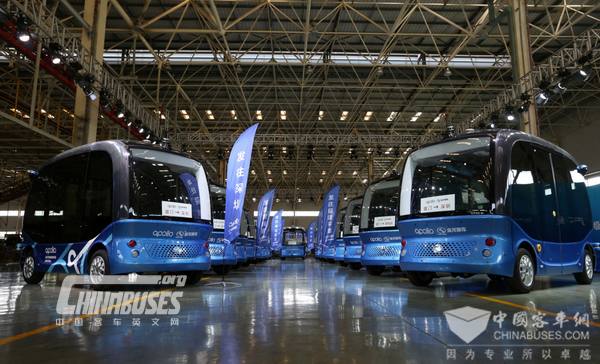 Before its mass production, Apolong has already successfully completed its trial operation in Pingtan Autonomous driving vehicle testing center, Chongqing Autonomous driving Sealed Testing Ground and on a sealed road in Xiamen Software Park.
On July 3, King Long, Baidu and SB Drive signed a strategic cooperation agreement. The three parties will jointly develop King Long Apolong for Japanese market, aiming to realize the vehicle's commercial operation in Tokyo as soon as possible.
In 2017, King Long joined hands with Baidu in developing Autonomous driving commercial vehicles. In just one year, the two parties have made a number of technological breakthroughs, pushing China's Autonomous driving vehicle industry to a leading position in the global market.(www.chinabuses.org)
Editor:ida
Related China Bus News