Foton and Piaggio Confirm Tie-up for New Range of LCVs
2018-05-23 Source:www.chinabuses.org
Summarize:Eight months after the Piaggio Group of Italy and Foton Motor Group of China announced plans to develop a new range of four-wheel light commercial vehicles (LCVs), the two companies have signed a final contract confirming the same
Eight months after the Piaggio Group of Italy and Foton Motor Group of China announced plans to develop a new range of four-wheel light commercial vehicles (LCVs), the two companies have signed a final contract confirming the same.
Earlier today, Roberto Colaninno, chairman and CEO of Piaggio, and Chang Rui, vice-president of Foton Motor Group and president of Foton International, signed a final contract for the development and production of a new range of four-wheel light commercial vehicles. The technical annexes will be completed over the next two months.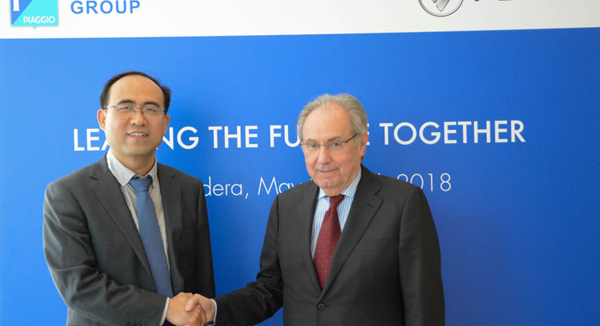 Different types of vehicles are planned to be developed as mini pick-up and mini-van models to meet the growing demand for commercial mobility solutions particularly suited to intra-city travel, and equipped with latest-generation ecofriendly engines and state-of-the-art technological features. All the vehicle types will have a payload capacity up to 1.5 tonnes. The models will be gradually launched in the next few years starting from 2020 through a distribution network oriented to maximum customer satisfaction.
The European leader in the two-wheeler sector, in 2017 the Piaggio Group shipped 176,800 commercial
vehicles worldwide, confirming its position as a player of significant importance on the market for 3- and 4-wheel light commercial vehicles for the transportation of passengers and goods.
The Foton Motor Group, the biggest commercial vehicle manufacturer in China with a total turnover of around 51.7 billion CNY (in 2017) and about 40,000 employees around the world, offers a complete range of products with high added technological value. It is achieving rapid growth and diversifying its international operations, in part through joint ventures with leading names in automotives, including alliances with Daimler AG and Cummins Inc.(www.chinabuses.org)
Editor:
Related China Bus News