King Long Exports 150 Luxurious "Chinese Red" Buses to Saudi Arabia
2018-03-29 Author: Source:www.chinabuses.org
Summarize:On March 24, 150 King Long luxurious buses were departed from Xiamen Xiandai Port to Saudi Arabia This batch of buses will be put into the local public transit system to improve public transportation quality
On March 24, 150 King Long luxurious buses were departed from Xiamen Xiandai Port to Saudi Arabia. This batch of buses will be put into the local public transit system to improve public transportation quality.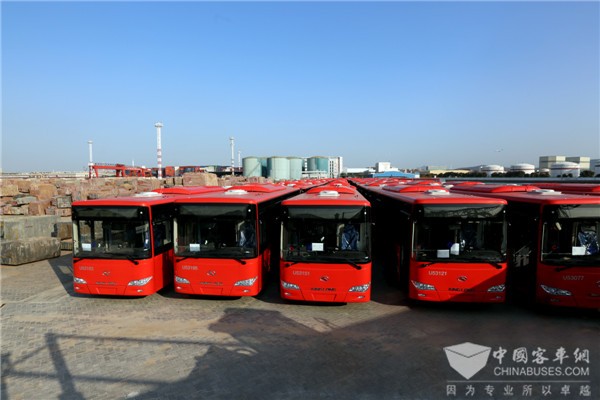 In the spring sunshine, 150 luxurious buses ready to leave
"A total of 350 buses have been ordered this time. After the first batch of 150 buses is shipped, the rest 200 luxurious buses will be delivered to the customer later to serve pilgrims." King Long's head of Saudi Arabia market introduced. It is reported that since the first export to Saudi Arabia in 2004, King Long has won the preference of lots of local end customers by virtue of its high-quality products and services. Many of them are quite fond of King Long. The customer who bought this batch of 150 luxurious buses is the best example. Since the first cooperation in 2011, nearly 2,000 buses have been traded in total.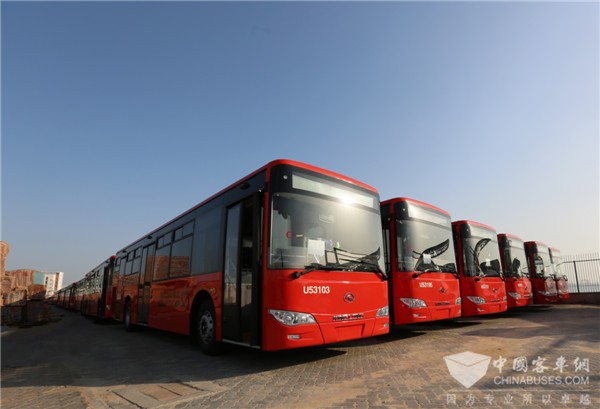 In Saudi Arabia, the brand of King Long is everywhere. Until now, there have been over 5,000 King Long vehicals in the local market and King Long has become the company with the highest reputation and the largest number of ownership compared with other Chinese competitors in Saudi Arabia. In 2017, nearly 800 vehicals have been exported to Saudi Arabia, ranking first in terms of the market share among all Chinese brands exporting to Saudi Arabia. At the beginning of 2018, King Long's business in Saudi Arabia continued to maintain its strong momentum. During the Chinese New Year, a batch of 56 luxurious buses had been exported to Saudi Arabia.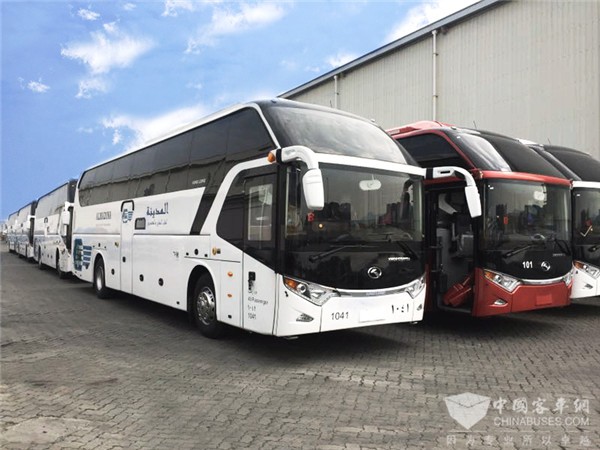 On the 2nd Day of Chinese New Year, a batch export of 56 luxurious buses to Saudi Arabia
In addition to Saudi Arabia, King Long's export business in the rest of the world also boomed this year. 56 red double-deck buses was exported to Kuwait during the Spring Festival holiday, making a good start overseas. Afterwards, large batches of buses were shipped to Costa Rica and Israel to meet the needs of overseas customers in time.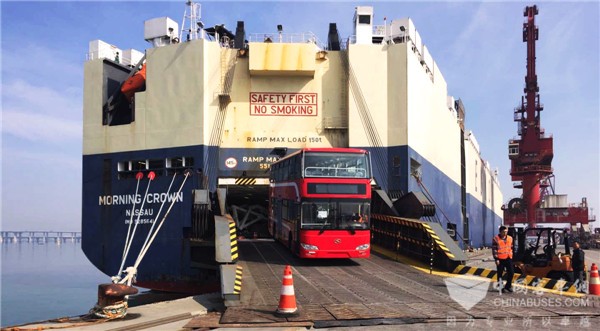 First batch export of 56 "China red" double-deck buses to Kuwait
In 2018, against the backdrop of the global economic recovery, recovery of commodity prices and continued deepening of the "Belt and Road" Initiative, Chinese passenger car exports are expected to recover as well. Wind is a good partner of voyager, and it is the best time to set our sails. King Long will absolutely take the opportunity to embrace a new voyage!(www.chinabuses.org)
Editor:ida
Related China Bus News