200 Units SAIC Datong EV80 Arrived in Germany for Operation
2018-01-22 Author: Source:www.chinabuses.org
Summarize:On January 15, a grand ceremony was held in Germany to mark the arrival of 200 units electric EV80 light buses, all of which were made by SAIC Datong With a price tag of 55,000 Euros per unit, EV80 is the first vehicle ever purchased by Maske Group, Germany's largest light commercial vehicle rental service provider
On January 15, a grand ceremony was held in Germany to mark the arrival of 200 units electric EV80 light buses, all of which were made by SAIC Datong. With a price tag of 55,000 Euros per unit, EV80 is the first vehicle ever purchased by Maske Group, Germany's largest light commercial vehicle rental service provider.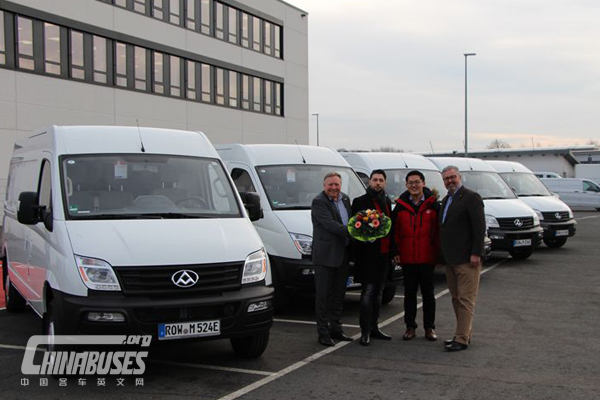 According to Maske, the company had spent three years conducting thorough researches before placing its order on SAIC Datong.
Compared with a diesel powered light bus, EV80 is able to help its operator cut maintenance fees by 70%. SAIC Datong also provides three years quality guarantee for EV80 and five years quality guarantee for its batteries.
Apart from its huge success in Germany, EV80 has successfully passed OLEV assessment in the UK. Thanks to its high environmental friendliness, SAIC Datong has also won UK Green Fleet EV Manufacturer and Best Light Commercial Vehicle Manufacturer.
According to SAIC's new strategic plans which give full emphasis to vehicle development driven by higher intelligence, more connectedness, more sharing, and more environmental friendliness.
Boasting a wide spectrum of vehicle products, including wider body light buses, MPVs, pickups, SUVs, electric vehicles, hybrid vehicles, and fuel cell vehicles, SAIC Datong aims to further strengthen its competitiveness in the global market.
In domestic market, EV80 and EG10 have both made their way to JD, SF Express and Cainiao, gaining increasing recognition among the customers. In addition, EV80 has also been selected as the school bus for Wellington College International Shanghai. "EV80 is highly reliable. Datong also help us install recharging posts for free. After being recharged once, the vehicle is able to meet a whole day's driving tasks," said a driver from the school's bus fleet.
EV80, EG10, and FCV80, a fuel cell vehicle which entered the market at 2017 Guangzhou Auto Show, are providing carbon free travel experiences for more and more passengers across China. Achieving higher safety standards and longer continuous driving distances, they fully meet the demanding transport tasks in various working conditions.(www.chinabuses.org)
Editor:ida
Related China Bus News