Golden Dragon Plays a Key Role in Promoting Green Public Transport in Fujian Province
2018-01-03 Author: Source:www.chinabuses.org
Summarize:In this new era of green economy, Fujian province in Southeast China has been taking various measures to pursue a brand new economic development road featuring strong emphasis on environmental friendliness and less carbon impacts on our planet One strategic move that is especially worth mentioning is the province's initiative to build its own electricity powered public transport system
In this new era of green economy, Fujian province in Southeast China has been taking various measures to pursue a brand new economic development road featuring strong emphasis on environmental friendliness and less carbon impacts on our planet. One strategic move that is especially worth mentioning is the province's initiative to build its own electricity powered public transport system.
On December 29, a grand ceremony was held in Fuzhou to mark the official delivery of a new batch of new energy city buses. Officials from various government organizations together with a number of distinguished guests and journalist attended the ceremony.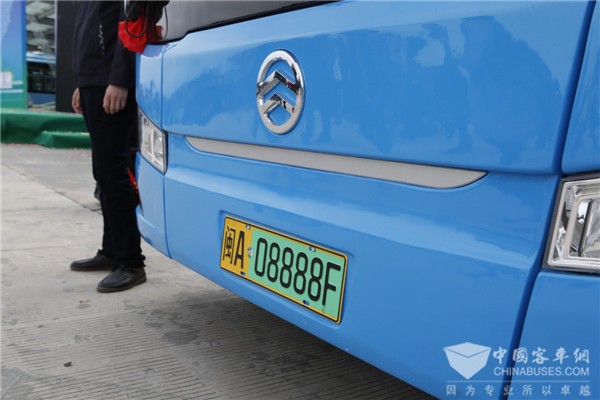 On the same day, a new batch of Golden Dragon new energy buses was delivered to their customers in Fujian, including its latest large-sized city buses with a newly designed look and its 8.5-meter city buses, all of which represent the latest bus manufacturing trends and achieve higher maneuverability and energy efficiency. They also epitomize the rich experience accumulated by the bus maker in the past 25 years.
With a more streamlined body structure, Golden Dragon new energy bus assumes a more fashionable appearance. Thanks to the introduction of aluminum as its building materials, it has a lower body weight but still retains the sturdiness and resilience its predecessors and boasts longer continuous driving distance. With large view-windows and eye-catching interior design, the vehicle provides more travel comforts for passengers. Its permanent magnetic synchronous electric motor and its high-performance battery units help the vehicle deliver powerful performances. In addition, its continuously variable transmission (CVT) has greatly lowered the work load for drivers.
Equipped with long-distance monitoring system, wireless smoke alarming system and automatic fire extinguishers, the vehicle effectively keeps all emergencies at bay. Its interior and exterior monitoring systems, panoramic viewing system, anti-collision system, lane-deviation alarm, camera system and radar system, all make the vehicle highly intelligent and the driving an highly enjoyable experience for drivers.
As an indispensible part of any cities' overall image, urban public transport powered by electricity certainly complies with the central government's call for building a more beautiful China and meeting people's increasing demand for a better quality life.
As one of the bellwethers in Fujian province, Golden Dragon is fully committed to promoting green public transport. By the end of 2017, a total number of 1,592 units Golden Dragon new energy city buses had been put into operation in a number of cities across the province, including Fuzhou, Longyan, Nanping, Quanzhou, and Putian.
As early as 2002, Golden Dragon formed its own R&D team specialized in developing new energy buses. In 2015, together with Netherlands-based EBUSCO, it rolled out a whole aluminum city bus which won the Eco Bus title at that year's Busworld Exhibition held in Kortrijk, Belgium. Currently, as a major player in China's new energy bus market, it is leading China's bus manufacturing industry to a new historical height in the world.
At present, over 15,000 units Golden Dragon new energy buses are working smoothly across the globe. In China alone, Golden Dragon can be easily found in over 40 cities, including Beijing, Shanghai, Hangzhou, Guangzhou, Xiamen, and Fuzhou. In several countries in Europe, such as Finland, Netherlands, France, Germany and Norway, Golden Dragon has already established a visible presence. On August 7, 2017, the first city bus route completely powered by electricity and with all the vehicles made by Golden Dragon started operation in Israel and immediately won wide acclaim. (www.chinabuses.org)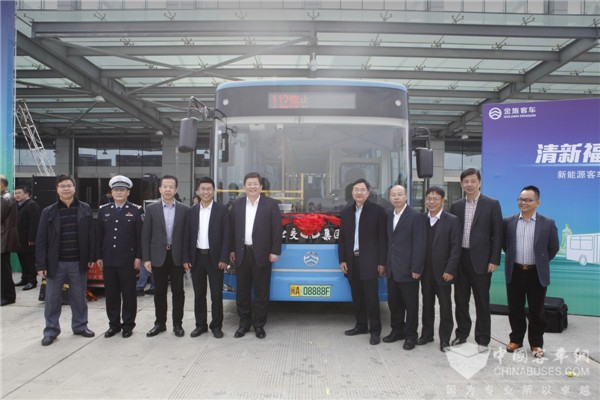 Editor:ida
Related China Bus News