Navigator Ushers in a New Era for Golden Dragon
2017-12-07 Author: Source:www.chinabuses.org
Summarize:Representing the highest bus manufacturing technology of Golden Dragon in the last twenty-five years since its establishment, Navigator is set to become the flagship vehicle in China's high-end bus market
Representing the highest bus manufacturing technology of Golden Dragon in the last twenty-five years since its establishment, Navigator is set to become the flagship vehicle in China's high-end bus market.
Inheriting all the outstanding features of Golden Dragon's Splendor and Triumph, Navigator immediately commands awe without looking overbearing among its viewers. With a readily identifiable appearance, it is an astounding achievement made by the joint efforts of Golden Dragon, the UK-based DCA and Germany-based Benz Powertrain. With a four-step entry, Navigator inevitably impresses passengers with its anti-slip floor, its luxurious interior, its passenger-friendly facilities, etc.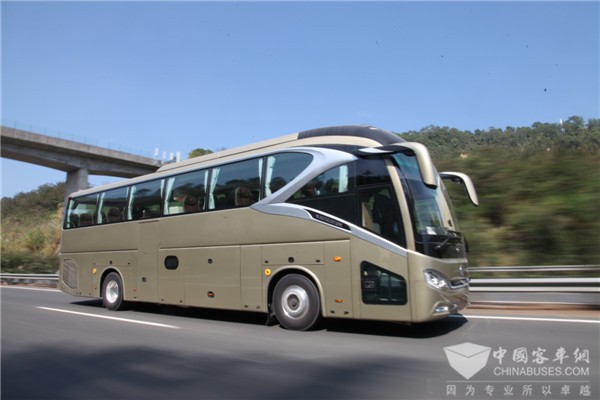 Unlike other buses and coaches which merely focus on passengers traveling experience, Navigator has given equal attention to making driving as comfortable as possible for drivers as well. At driver's cockpit, a rotating seat, one-button start-up, electronically controlled window and rear-view adjustment, electronically controlled sunshade, electronic parking brake system are just a few amenities for drivers. Its ergonomically designed driver's seat provides ample legroom for drivers who can accomplish all operational moves with more ease. In addition, with a higher level of intelligence, Navigator is able to present volumes of information for drivers and correct their nonstandard operation moves when necessary. Its centrally controlled screen is in charge of the entertainment, GPS, blue-tooth, internet connection and video monitoring on board.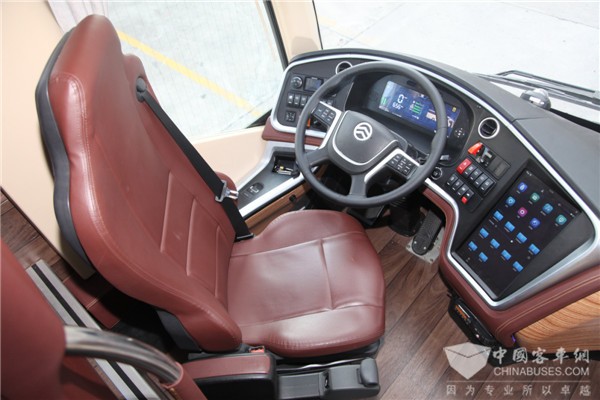 In the passenger area, Navigator leaves its passengers an impression of being in a theatre, which has been achieved by thorough market investigations by DCA. "This is an interior revolution for buses in both China and Europe", said Roelof-Paul Kruizinga, an experienced designer at DCA. Thus, at Busworld Exhibition in Kortrijk, Belgium, Navigator successfully attracted wide public and media attention. With unfailing care to every detail on board, Navigator creates a sense of warmth and privacy for all passengers.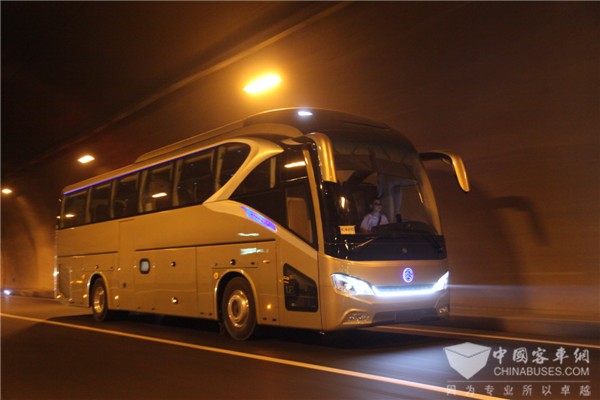 Equipped with OM457 diesel engine (its maximum power: 295 kW) and eight-speed AMT transmission gearbox, Navigator has introduced the whole set of powertrain from Benz and fully meets all requirements for working at speeds ranging between 80 to 100 km/h. Thanks to some slight calibrations of its engine, it reaches a torque of 2,000 N.m at a rotation speed of 1,100 r/min, helping the vehicle achieve better acceleration performances. In addition, its transmission gearbox makes the transition for the vehicle from a standstill to acceleration on the road smoother and greatly improves Navigator's fuel economy and overall travel experience. Compared with other buses whose drag coefficient usually stand at 07-08, Navigator's drag coefficient only registers at 0.548, contributing enormously to its much improved energy efficiency.
NVH performance is another barometer to assess the overall competitiveness of a bus. Those vehicles with its engines mounted at their rear, the last row of passenger seats usually experience the largest amount of noise. Data suggest that the average noise level at the last row of passenger seats on Navigator only stands at 67 dB. Thanks to this, no other buses has a quieter traveling environment than that of Navigator.
To improve its active and passive safety standards, Navigator has adopted a host of state-of-art technologies, including a high-strength monocoque body structure, a hydraulic retarder, a lane-deviation alarming system, AEBS, tire pressure monitoring device, run stability control (RSC), night navigational system.(www.chinabuses.org)
Editor:ida
Related China Bus News