CRRC Electric Buses Shine in Macao
2017-11-07 Author: Source:www.chinabuses.org
Summarize:On November 3, the seventh China (Macao) International Automobile Exhibition officially raised its curtain in Venetian Macao Convention & Exhibition Center According to the organizing committee, this year's event has attracted over 100 auto brands from 20-plus countries across the globe
On November 3, the seventh China (Macao) International Automobile Exhibition officially raised its curtain in Venetian Macao Convention & Exhibition Center. According to the organizing committee, this year's event has attracted over 100 auto brands from 20-plus countries across the globe.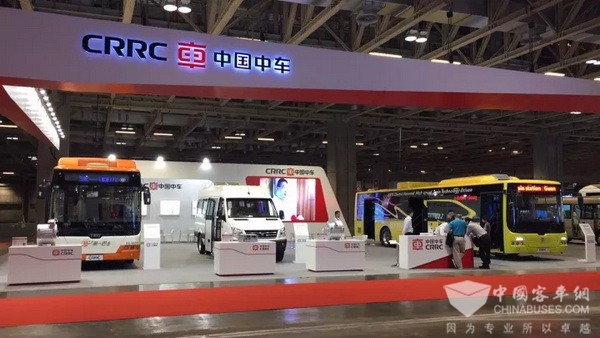 CRRC Electric, as one of the leading players in the new energy vehicle industry, brought three blockbuster products on display, including C12, C10 and C07. Fully demonstrating the company's formidable strengths in the fast growing new energy vehicle industry, the three vehicles have aroused keen interest among customers from Brazil, Portugal, Mozambique, the United States, Italy and Slovakia.
C12 is chiefly targeted at the EU market. Officially making its debut in Hanover International Commercial Vehicle Exhibition in 2016, the bus is equipped with direct-current dual recharging system and braking resistor in line with EU standards. In addition, it has a host of passenger-friendly features on board, such as USB portals and ergonomically designed seats.
C10 has a classic look. Equipped with high-strength steel monocoque body structure, the vehicle has significantly cut its weight and achieves higher stability and safety standards. So far, C10 has already established its presence in Taiwan, Guangzhou, Changchun, Changzhi and a number of other cities in China.
C07 is a versatile vehicle, capable of shouldering such tasks as intercity passenger transportation, business reception, and short-distance passenger transportation. With a spacious room on board, the vehicle offers passengers with a host of travel comforts. Its automatic door also greatly ease the trouble for passengers getting on/off the vehicle. Generating zero amount of pollutants, it can drive 250 km continuously. According to CRRC Electric, the bus can mount 20 seats at most.
Apart from the three eye-catching vehicles, CRRC Electric also brought its fifth generation electric driving system T Power, dual winding electric motor, permanent magnetic synchronous electric motor, IGBT, and sensors on display.
Committed to transforming itself as a respectable new energy bus maker with international presence, CRRC Electric has already made big splashes at a number of international exhibitions, such as Hanover International Commercial Vehicle Exhibition, South Korea Auto Exhibition, Hong Kong Automobile Exhibition, and Busworld Exhibition in Kortrijk.
At 2017 Busworld Exhibition in Kortrijk, which just closed one week ago, CRRC Electric officially rolled out its ACE (Autonomous, Connected, Electric) Comprehensive Solutions to its global customers, aiming to make future transportation smarter and greener.(www.chinabuses.org)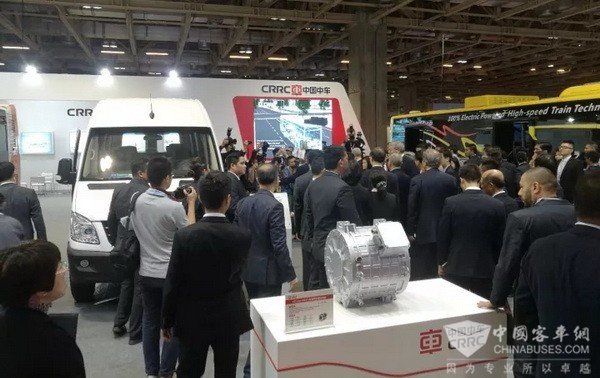 Editor:ida
Related China Bus News