Three King Long New Energy Buses Make Their Debut at 2017 Shanghai International Bus Exhibition
2017-08-10 Author: Source:www.chinabuses.org
Summarize:On August 9, 2017 Shanghai International Bus Exhibition was held at Shanghai New International Exhibition Center (SNIEC) King Long, one of China's leading bus maker, brought three City Light series new energy buses on display: XMQ6127G electric city bus, XMQ6127G gasoline-electric hybrid city bus and XMQ6850G gas-electric hybrid city bus
www.chinabuses.org: On August 9, 2017 Shanghai International Bus Exhibition was held at Shanghai New International Exhibition Center (SNIEC). Themed with "Green Public Transport for Energy Conservation and Environmental Protection", this year's exhibition aims to showcase the latest achievements in the energy conservation field and new energy bus field. King Long, one of China's leading bus maker, brought three City Light series new energy buses on display: XMQ6127G electric city bus, XMQ6127G gasoline-electric hybrid city bus and XMQ6850G gas-electric hybrid city bus.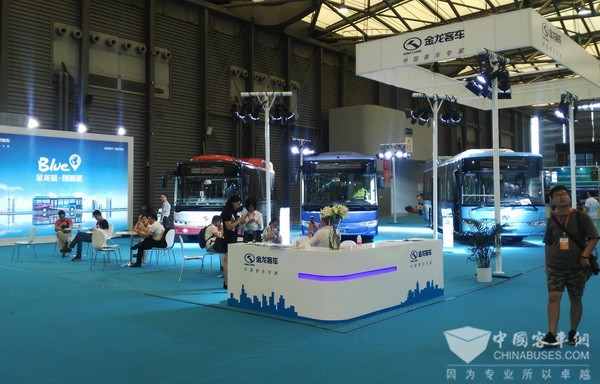 King Long's City Light series buses are committed to becoming a unique name card for the modern urban life. With fossil-fuel, clean energy, hybrid energy and electric drive systems available, this series of buses, measuring from 6 meters to 18 meters in length, covers a wide spectrum of bus types, such as BRT, large-sized travel coaches, medium-sized travel coaches, mini-city buses. All equipped with ECO-Chip 2.0, they have realized intelligent management and long-distance monitoring.
Boasting awe-inspiring appearances, spacious interior and passenger-friendly facilities, the three vehicles brought on display by King Long achieve the highest safety standards thanks to their 3H body structures. With automatic transmission gearboxes, ergonomically designed seats and a host of other state-of-art technologies, these buses create unprecedented driving and traveling experiences for both drivers and passengers. Also worth mentioning are their ingenious front and interior check points and optimized circuit groups, which greatly facilitate maintenance and repair work.
XMQ6127G electric city bus cut its weight by 10%, helping its achieving higher energy efficiency. Its LED roof lights, improved dashboard, and luxury floor have projected a brand new image for city buses among passengers. Its vibration-absorbing driver's seat and new rear view mirror give bus drivers a superb driving experience. While put on the multi-module recharging mode, the vehicle can be recharged in just twenty minutes and then drive 210 kilometers continuously.
XMQ6127G gasoline-electric hybrid city bus is equipped with special seats, handrails and rings for passengers. With a lowered body weight, the vehicle has further improved its energy efficiency. Its mechanically adjustable seat for drivers, new designs for the driver's window, improved dashboard and a whole lot more provide a much safer and more comfortable working environment for bus drivers. In addition, it can drive 50 kilometers continuously when put on the fast-recharging mode and can drive over 90 kilometers when solely powered by electric drive system.
XMQ6850G gas-electric hybrid city bus has further improved its overall layout. With fast and slow recharging batteries available, it can meet customers' varied needs. Equipped with an intelligent cooling system which is independently developed by King Long, the vehicle is able to significantly reduce its overall energy consumption. Batteries and other high-voltage spare parts are completely separated from passenger area, fully ensuring the safety of all passengers. Its hybrid power system and efficient recharging system help the vehicle cut its energy consumption and emissions to the minimum.
Editor:
Related China Bus News