Foton AUV Gets on the Fast Track of Developing Fuel-cell Buses
2017-03-14 Author: Source:www.chinabuses.org
Summarize:Foton, China's leading manufacturer of commercial vehicles, has been actively involved in developing hydrogen-powered vehicles since 2006 It has set up coopertive ties with Tsinghua University and Beijing SinoHytec Co , Ltd In jointly developing fuel cell buses and logistic vehicles
www.chinabuses.org: Driven by the rising demand and government's favorable policies, Foton, China's leading manufacturer of commercial vehicles, has been actively involved in developing hydrogen-powered vehicles since 2006. It has set up coopertive ties with Tsinghua University and Beijing SinoHytec Co., Ltd. In jointly developing fuel cell buses and logistic vehicles. In 2014, the company rolled out five units 12-meter fuel-cell buses, successfully overcoming such drawbacks as high production costs and short life-expectancy of fuel cells. On May 23, 2016, Foton AUV signed a sales agreement with its customer for selling 100 units fuel-cell buses, marking a new milestone in the industry. So far, Foton has set up AUV and Aumark Fuel-cell Vehicle Production Bases, forming a complete industrial chain for researching, developing, manufacturing fuel cell vehicles.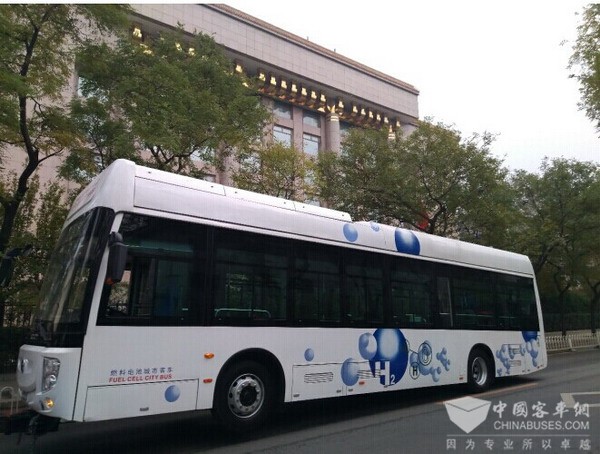 AUV fuel cell city bus
In 2016, Foton AUV officially launched "Quality Discovery Tour" in China, visiting Liaoning, Beijing, Anhui, Jiangsu, Hunan, Guangdong and Yunnan. It also set up China Green Bus Development Alliance, aiming to further promote the application of environmentally-friendly buses. Early this year, the "Quality Discovery Tour" gained recognition from China's Ministry of Transport (MOT), injecting new vitality into the industry.
Some experts believe that 2017 will be another fruitful year for China's fuel-cell vehicle industry. Foton will maintain its leading position in this sector by encouraging innovation and upgrading its products. Currently, its 8.5-meter fuel-cell bus is able to drive 500 kilometers after a ten-minute refill of hydrogen. Besides, thanks to its state-of-art dry film technology, the vehicle has realized smooth start-up and operation in minus 20 degree celsius and automoatic shut-down and self conservation in minus 46 degree celsius. Another feature of the vehicle is its iFoton Intelligent Vehicle Management System, which well integrates the management of vehicles, the transportation of passengers and the navigation.
In recent years, against the backdrop of deteriorating environmental pollution, Chinese government has been actively promoting the application of new energy vehicles. In 2017, China's production volume of new energy vehicles is expected to hit one million units.
Fuel-cell vehicles, with zero-pollution and zero-emission standards, have become increasingly regarded as the "Holy Grail" in the emerging new energy vehicle industry. According to Chinese government's development plan, fuel-cell vehicles will realize their commercialization in 2020.
Editor:ida
Related China Bus News