300 Units King Long Plug-in Hybrid Buses Delivered to Huai'an for Operation
2016-11-02 Author: Source:www.chinabuses.org
www.chinabuses.org: During the one-week long National-Day Holiday, 300 units King Long plug-in hybrid buses were officially put into operation in Huai'an, Jiangsu Province. After introducing 100 units King Long electric buses in March this year, Huai'an Public Transport placed another order of 300 units King Long plug-in hybrid buses, the biggest new energy bus order in Jiangsu this year.

At the ceremony to welcome the new batch of new energy vehicles held on September 26, Tan Pingsheng, director of the Public Relations Office of Huai'an Public Transport spoke highly of King Long buses, saying "the new buses are manufactured by the state-of-art technologies." According to Mr. Tan, King Long plug-in hybrid buses have significantly improved the travel comfort level for passengers thanks to its new generation air suspension. Using flame retardant materials for its floor, roof and interior, the vehicles have further elevated its safety standards. In addition, the vehicle has cut its operation noise by 3-5 decibels and fuel costs by nearly 30%. With practically zero emission of PM2.5, it has also cut the emission of other pollutants. Equipped with maintenance-free axles, the bus has further boosted its overall reliability.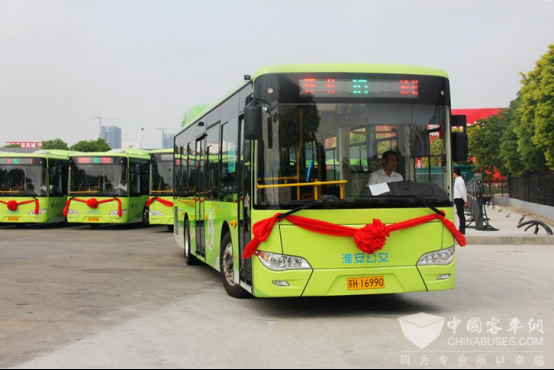 At the beginning of this year, Huai'an Public Transport successfully finished its restructuring and reform. Since then, the bus operator has given top priority to developing green, reliable and intelligent public transport. So far, it has opened 17 new bus routes and optimized 9 bus routes. By the end of this year, the company's bus fleet is expected to grow to 1,200 units. Also, the number of new energy buses will rise to 700 units.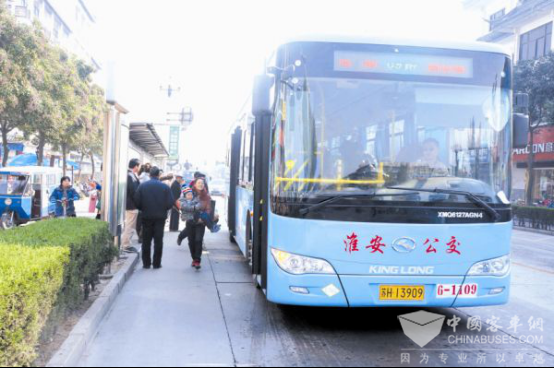 Since March this year, the 100 units King Long electric buses have been serving local residents and bringing them new commuting experiences. The newly arrived 300 units plug-in hybrid buses, with ISG systems independently developed by King Long, have already gained great popularity in Xiamen, Yancheng, Nanjing, Sanya, Qingdao, and Zhanjiang, etc. He Haibing, Deputy General Manager of the Operation Department of Huai'an Public Transport points out that King Long new energy buses have been working smoothly, which have given the company more confidence in the bus brand.

In the second half of 2016, King Long has seen a rapid increase in its sales of new energy buses. In September alone, the company sold nearly 1,000 units electric buses and plug-in hybrid buses.

Editor:ida
Related China Bus News