DAFO OFFERS FIRE PROTECTION FOR ELECTRIC BUSES
2019-10-23 Source:Busworld
Summarize:DAFO Vehicle Fire ProtectionDafo Vehicle Fire Protection has developed a comprehensive multi-zone fire protection solution, available for electric and hybrid vehicles
Dafo Vehicle Fire Protection has developed a comprehensive multi-zone fire protection solution, available for electric and hybrid vehicles.
Dafo uses Forrex as part of a complex system solution. The manufacturer states that it provides an effective cooling capacity to slow down fire development for safe evacuation of passengers.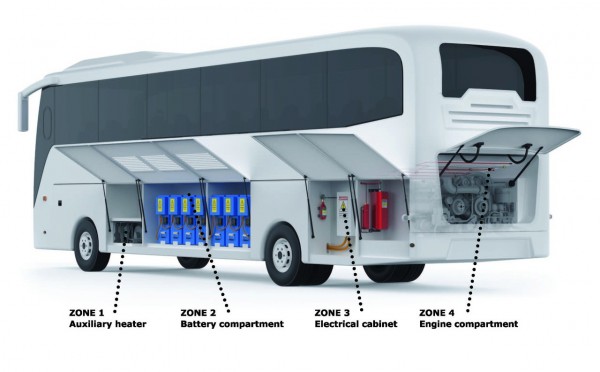 Dafo Fire Protection has divided the EV or HEV-bus into four protection zones, which are protected in various ways with robust detection and fire suppression systems, applied on both liquid and gas based solutions. Dafo claims that since Li-ion batteries are still a relatively new technology and battery fire safety is a recent area of research, regulations and standards are to some extent lagging behind developments. Dafo Vehicle Fire Protection is participating in several research projects on how to deal with the fire risk of Li-ion batteries in vehicles and to reduce the risks and consequences of a thermal incident in HEV's and EV's such as buses and trucks. It directs the Li-IonFire research project funded under the EU Framework Programme for Research and Innovation - H2020 - in the context of the SME financing scheme. Li-IonFire has been selected for the shortlist of the Busworld Awards.
Editor:
Related China Bus News