Dongfeng Cummins Won China Bus Power Star
2016-12-29 Author: Source:www.chinabuses.org
Summarize:On December 23, the 11th China Bus Influences Annual Awarding Ceremony was held in Beijing Jointly organized by Chinabuses org and China Civil Engineering Association Urban Public Transportation Branch, the 11th China Bus Influences Annual Awarding Ceremony was witnessed by representatives from bus operating and manufacturing sectors as well as related industries
www.chinabuses.org: On December 23, the 11th China Bus Influences Annual Awarding Ceremony was held in Beijing. Jointly organized by Chinabuses.org and China Civil Engineering Association Urban Public Transportation Branch, the 11th China Bus Influences Annual Awarding Ceremony was witnessed by representatives from bus operating and manufacturing sectors as well as related industries.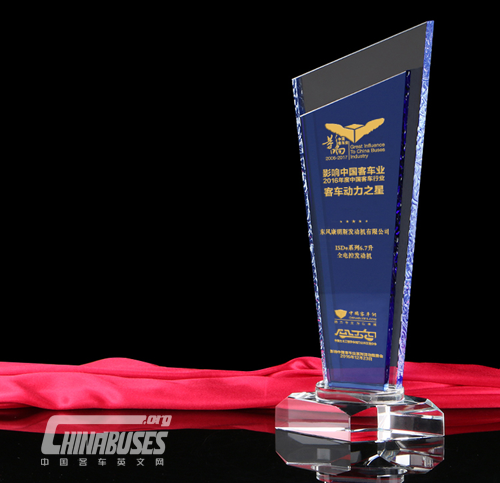 Dongfeng Cummins was awarded 2016 Bus Power Star. Its ISDe series engines, with unparalleled reliability and performances, have become the new standard product in the bus industry.
Boasting strong power, low fuel consumption, long life-expectancy, and low operating costs, ISDe series engines has been constantly gaining popularity among users. After its entry into the market, it has soon grabbed a sizable market share and become the mainstream engine product.
With state-of-art electronic control system, the ISDe series engines are able to realize intelligent management of the intake gas, outtake gas, cooling, conbustion, braking, and post-treatment. In addition, they have further integrated the operation data of engines and its sub-systems, as well as engines and the whole vehicles, making sure that any potential troubles could be monitored and remedied.
Editor:
Related China Bus News