CALB Saw Robust Growth in the Sales of Power Batteries
2016-10-31 Author: Source:www.chinabuses.org
Summarize:How can CALB make such an impressive achievement in the constantly changing market? Ye Danzheng, Assistant to the General Manager of CALB took an exclusive interview with chinabuses org
www.chinabuses.org: In October, Sichuan Chengfei Integration Technology Co., Ltd. (hereafter referred to as CITC) released a business report, showing that in the first three quarters this year, the company's net profits attributable to shareholders of listed companies jumped to 93.56 million RMB from 84.66 million RMB which was recorded in the same period last year. The rise was chiefly contributed by the company's wholly owned subsidiary, China Aviation Lithium Battery Co., Ltd. (hereafter referred to as CALB), whose sales in the first nine months this year far exceeded previous estimates.
How can CALB make such an impressive achievement in the constantly changing market? Ye Danzheng, Assistant to the General Manager of CALB took an exclusive interview with chinabuses.org.
As the power battery market matures in China, many power battery solutions have become available. At the beginning of this year, both lithium iron phosphate (also known as LiFePO4, LFP) and ternary batteries made the headlines on various media. According to Ye, CALB has been actively involved in R&D of ternary batteries and it will further expand its LFP market and greatly increase its production capacity of ternary batteries.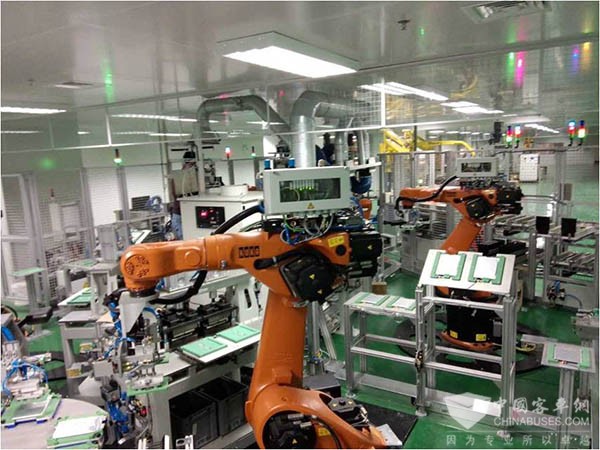 CALB workshop
For new energy buses, CALB mainly provides LFP batteries, which feature high safety standards, high specific capacity, wide temperature range, easy recharging and discharging. So far, the company has established close cooperative ties with a handful of leading bus makers in China, including Yutong, King Long, Zhongtong, Foton, Dongfeng, and FAW.
Since 2015, CALB has been enhancing its production capacity by launching the third phase construction of its headquarters and the first phase construction of its factory located at Jintan, Changzhou, Jiangsu. By the end of 2016, the company's production capacity is expected to break four billion watt/hours. When its two production bases fully finish their construction, its production capacity will jump to five billion watt/hours, making the company the largest producer of lithium-ion batteries in China.
To ease the public's concerns about the safety and recycling of batteries, CALB has come up with a solution which puts emphasis on batteries' whole life cycle management. To guarantee the safety of its single cores, CALB has developed functional electrolyte, ceramic insulation technology, pole piece molding technology. In addition, the company has fully mastered recycling technologies for used batteries, dismantling of large capacity batteries, recycling with low energy consumption, collection of electrolyte, harmless treatment, recycling of battery materials, etc. By the end of 2016, the company will be able to recycle 50 million AH power batteries.

Editor:ida
Related China Bus News