KINGLONG Launching Two New Models in Busworld Kortrijk 2011
In Busworld Kortrijk 2011, KINGLONG are officially releases launching two new models to the European market: XMQ6120AGD, a three-door low-floor city-bus and XMQ6129Y
BUSWORLD Kortrijk 2011
BAAV exhibition of 41-year-history will be held in Kortrijk Belgium from 21st to 26th Octombert. As the largest and oldest bus exhibition, it attracts 340 exhibitors from 32 countries, including over 70 bus manufacturers such as Volvo, Benz, Setra, Neoplan and Scania etc. There will be more floor area than ever before.
KINGLONG Buses in Busworld
Photos of KINGLONG
Previous Review
KINGLONG Buses witn EU WVTA
Events of Overseas Sales
2000
2001
2002
2003
2004
2005
2006
2007
2008
2009
2010
Starting the overseas marketing and developing from the markets in Hong Kong, Macau, and the Southeast Asian countries such as Singapore and the Philippines;
Exporting of buses to Iraq in mass production to start the market in Middles East market;
Setting up of CKD plant in India and exporting products by CKD for the first time;
82 units low floor city buses exporting to Malta and China buses entry into the European market for the first time;
The exporting volume up to 181 units and the amount exceeds $10 million USD;
VCA certificate for XMQ6127, the first access of China buses to EU market;
Attending BUSWORLD Belgium;
450 units buses exporting to Middle East, the biggest exporting of China buses ;
Obtaining the exemption from export inspection by General Administration of Quality Supervision, Inspection and Quarantine ;
Exporting products to the market in South America;
Breakthrough of the exporting of 1000 units, almost $50 million USD;
Successful access to the markets in Australia and Africa;
Attending BUSWORLD Belgium again and launching new products;
Breakthrough of the exporting of $100 million USD;
Attending IAA and the showing model (XMQ6127) drives from Xiamen city, via Eurasia to Hanover, referring to more than 12500 kilometers;
Delivery of 141 units buses to Cuba;
Exporting amount reaches more than $200 million USD, y/y growth of over 80%;
Gaining the order of 406 units city buses for the aiding project to Senegal;
The first hybrid power bus exports to Singapore ;
Attending BUSWORLD Belgium and Award of BAAV "Best Bus Builder"
Attending IAA and Cooperating with ARRIVA for the first time, signing the order of city buses for the project in Malta;
WVTA Certificates for XMQ6800,XMQ6130Y,XMQ6120C,XMQ6127J,XMQ6900J;
Delivery of the first buses for the aiding project to Senegal and wining the order of 673 units in Phase Two;
Exporting of light buses Ranks No.2 in the domestic industry.
KINGLONG Buses in Overseas Markets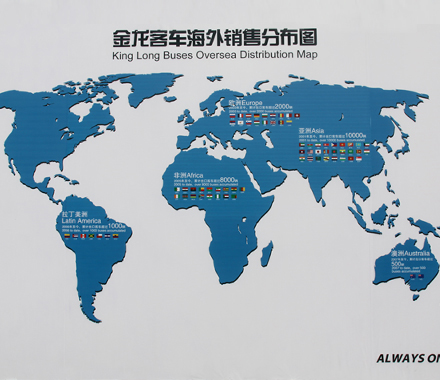 King Long Buses Overseas Distribution