Shuchi Big Nose School Bus Gets Offline
2012-02-13 Source:www.chinabuses.org
Summarize:On February 8th, 2012, from Yantai Shuchi Vehicle Co , Ltd news reported that the first Shuchi independent research and development of "big nose " school bus got offline which was made according to the Chinese national standard of the school bus

www.chinabuses.org: On February 8th, 2012, from Yantai Shuchi Vehicle Co., Ltd. news reported that the first Shuchi independent research and development of "big nose" school bus got offline which was made according to the Chinese national standard of the school bus.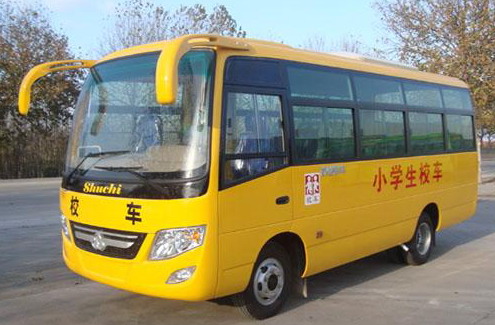 According to the technical personnel of Shuchi Bus, the Shuchi school bus uses environmental protection material to make the bus without pollution. It also creates a comfortable travelling atmosphere without noise. When the bus slowly stop, the parking sign arm on the left side would immediately open and the red warning lights marked "STOP" LED will be flashing, so the vehicle in the back will pay attention on it and keep away from the school bus.

In addition, it was also learnt that in order to ensure the safety of children in the bus, ShuChi School buses use chassis and Body Integral Construction design same as the Bird Nest structure, which is made by 16 kinds of steel material to make a ring frame structure with the characteristics of strong shock resistance to effectively protect the safety of children.

The 360 degrees vision without blind area design is to ensure that the driver observe the surrounding at any time around the bus. Besides, the intelligent fire extinguishing, intelligent detection and automatic startup devices covered all of the multi-dimensional technology of fire at an organic whole to achieve a truly intelligent application in safety and efficiency. According to the students' height characteristics, the technical staffs design the special type schoolchildren seat which is equipped with seat belts for every child.

"After the first self development Shuchi school bus was offline, we will carry out mass production of the school buses." the chairman and general manager of Yantai Shuchi Vehicle Co., Ltd. said. Due to the alkaline feature in the coastal areas which will bring corrosion for the buses, so ShuChi Bus will adopt the inner cavity and casting technology on the body and use the corrosion materials on the bottom. The features of noise reduction, heat insulation and anti-corrosion are not only suitable for coastal city, but still create longer service life of the buses in the inland areas.
Editor:
Related China Bus News