Hengtong Won Lhasa Procurement of 35 Plug-in Hybrid Buses
2015-04-29 Source:www.chinabuses.org
Summarize:Recently, Hengtong successfully won the bid for supplying 35 units of N300 series plug-in hybrid buses to Lhasa, marking the bus maker's official debut in the Tibet Plateau
www.chinabuses.org: Recently, Hengtong successfully won the bid for supplying 35 units of N300 series plug-in hybrid buses to Lhasa, marking the bus maker's official debut in the Tibet Plateau.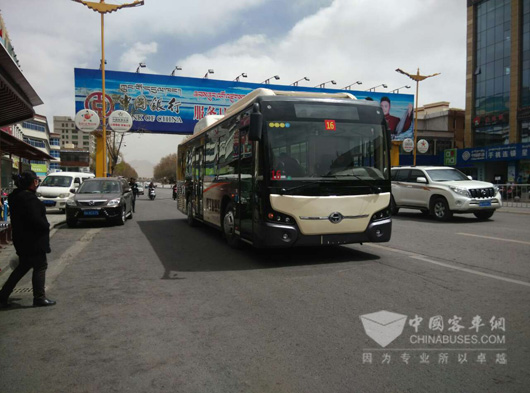 In recent years, Lhasa Public Transport Company has been actively implementing the government's ambitious drive for the construction of fast and convenient public transport networks. In 2014, the company introduced some new energy buses for trial operation. In this year, the company will further strengthen its efforts to put more eco-friendly buses on the roads in Lhasa city.

On Mar. 7, Hengtong N300 series plug-in hybrid bus started its long journey from Chongqing. After traveling through Sichuan, Gansu, and Qinghai, the bus arrived in Lhasa on Mar. 16. Driving over 3,400 kilometers, the bus also made it to the height of 5,231 meters. On Mar. 22, the bus was officially put into operation.

According to the bus driver surnamed Zhang, "Hengtong N300 series plug-in hybrid bus travels a distance of 172 kilometers everyday on average. It consumes about 30 cubic meters of gas per 100 kilometers, which is 18 cubic meters less than a normal CNG bus. Moreover, Hengtong bus is much more stable and creates little noises while in operation."

Hengtong N300 series plug-in hybrid bus is specially designed for green public transport in China's large- and medium-sized cities. With its uniquely fashionable design, the bus easily attracts people's attention. Equipped with plug-in parallel circuit system, the vehicle is mounted with YC6J210-52 engine with National V-Emission Standard and titanic lithium-ion battery with super durability. It is also worth mentioning that the double gun recharging technology can make the vehicle fully recharged in 15 minutes.

According to Hengtong, the 35 units buses will be delivered to Lhasa Public Transport by the end of May. Their arrival in the City of Sunshine is believed to provide more travel conveniences for local citizens.
Editor:
Related China Bus News