Higer Buses Provide More Comfortable Commuting Services for Workers in Dongguan
2021-11-08 Source:www.chinabuses.org
Summarize:many Higer buses provide more comfortable and convenient commuting services for China's leading smart phone brands
In Chang'an Town, Dongguan, many Higer buses provide more comfortable and convenient commuting services for China's leading smart phone brands, including Huawei, OPPO, Vivo. Huali Yongheng Transportation Service Co., Ltd. (hereafter referred to as Huali Yongheng), established in 2018, is a major player in Dongguan's commuting service market. Currently, it has 50 units buses, over 60% of which are branded with Higer.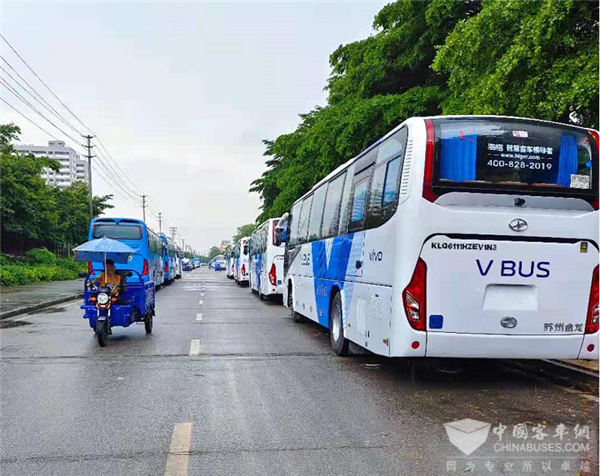 In 2020, Huali Yongheng purchased 20 units Higer KLQ6111HZEV1N3 electric buses. "I first came to know Higer when I was planning to establish my own business back in the summer of 2014. Then, I rented several units Higer KLQ6120 buses for trial operation. Their smoothness and high reliability as well as timely after-sales services soon prompted us to purchase my company's first Higer bus", revealed Luo Ping, General Manager of Huali Yongheng.
Since 2016, Vivo and other enterprises in Dongguan made it clear that all commuting buses must be powered by new energy. Higer new energy buses, with their uniquely attractive appearances and highly comfortable interior, soon won the heart of many workers.
Editor:Mark
Related China Bus News