Golden Dragon to Provide 3,000 Units Electric Logistic Vehicles GLE550 to Shenzhen
2021-06-29 Source:www.chinabuses.org
Summarize:Golden Dragon will provide 3,000 units electric logistic vehicles GLE550 to its customer
On June 22, Golden Dragon officially signed a sales agreement with Dishangtie Car Rental (Shenzhen) Co., Ltd. (hereafter referred to as Dishangtie). According to the agreement, the bus maker will provide 3,000 units electric logistic vehicles GLE550 to its customer.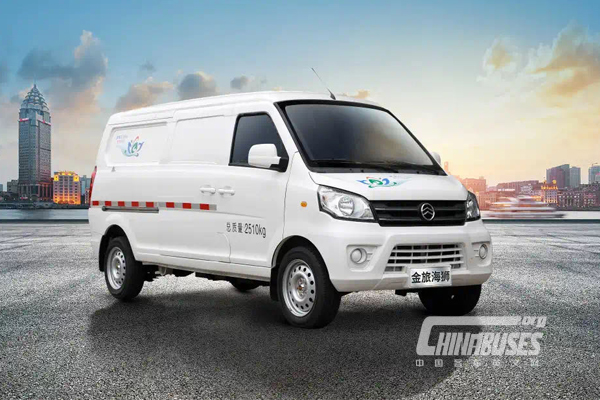 Golden Dragon GLE550
On the same day, Golden Dragon handed over 700 units such vehicles to their customer. Yu Yong, vice president of Dishangtie, Liao Xiaoqiang, Director of Golden Dragon's Light Vehicle Department, attended the handover ceremony.
As a mini logistic vehicle powered by electricity, GLE550 adopts a monocoque body structure and front & rear anti-collision steel beams. Achieving higher safety standards and boasting a higher loading capacity, the vehicle measures 4.5 meters in length and thus is highly agile while working in urban areas.
In 2020, Dishangtie purchased 600 units Hiace GLE850 electric logistic vehicles from Golden Dragon. Compared with fossil fueled vehicles, GLE850 achieves higher environmental friendliness and helps operators cut their costs. In addition, it has spacious cargo room and is able to drive long distances continuously. Upon customers' requirements, it can be powered by batteries made by CATL or Huizhou Yipeng. With its electric motor reaching a maximum power of 80 kW and a maximum torque of 270 N.m, GLE850 won two awards at the fifth China New Energy Vehicle Golden Panda Awarding Ceremony held in April this year.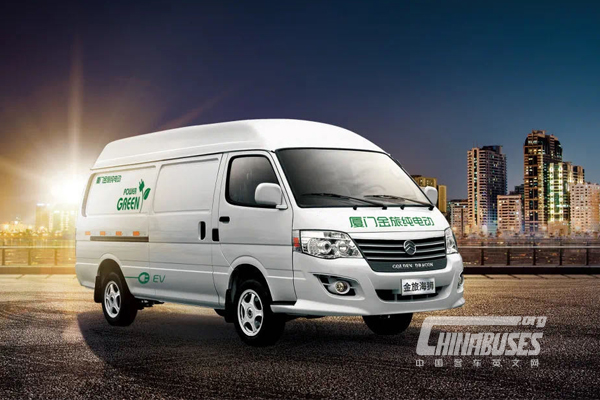 Golden Dragon GLE850
Established in 2015, Dishangtie has grown into China's largest new energy logistic service provider in China. Currently, it operates over 40,000 units vehicles (big and small vans, light trucks, refrigerating vehicles) and has business presence in over 200 cities across China. "SF, JD and China Post are just a few major customers we have been serving", revealed Yu Yong.
Editor:Isabella
Related China Bus News