Higer's Brand Value Exceeds 57 Billion RMB in 2021
2021-06-24 Source:www.chinabuses.org
Summarize:Higer, with a brand value of 57 226 billion RMB, ranked the 130th place in the list With its brand value growing fast, the bus maker has been on the list for 14 consecutive years
On June 22, World Brand Lab officially released China's 500 Most Valuable Brands. Higer, with a brand value of 57.226 billion RMB, ranked the 130th place in the list. With its brand value growing fast, the bus maker has been on the list for 14 consecutive years.
In response to the cutthroat competition in the market, Higer has taken a series of concrete measures, rolling out high-end coaches with more customized features and more intelligent city buses with more travel comforts.
In 2020, Higer KLQ6127B travel coach and KLQ6590E5V1 light bus made their debut, meeting passengers' growing demands for greener and more comfortable travel. With 2+1 seat layout, curtains, lamps and USB portals, they are ideal for business reception and tourist transportation.
Higer Ruixing has nine seats and a large luggage compartment. Drivers with C license are qualified to drive it. Currently, Ruixing has been put into operation in Guangxi, Guangdong, Henan and Jiangsu, etc., greatly raising the bar for business & travel services.
With a unique design and low-floor access, Higer Azure city bus is equipped with a host of advanced technologies. It automatically deals with the traffic on the road and has multi-layer of safety measures. Since its debut in 2019, over 3,000 units Azure city buses have been put into service, enjoy a growing popularity among customers and passengers.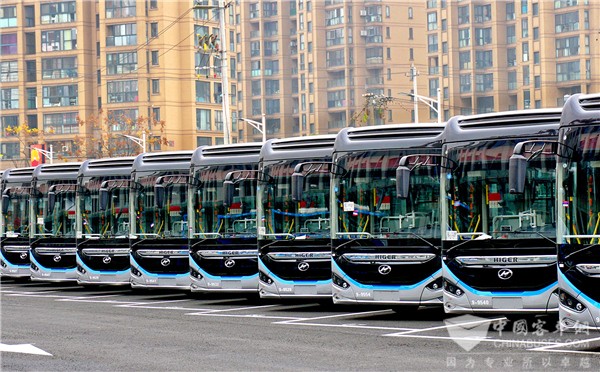 So far, over 50,000 units Higer buses & coaches have made their way to over130 countries and regions across the globe. In addition, they have served at a number of high-profile events, such as Beijing 2008 Olympic Games, World Expo, Asia Games, World Cup, Boao Asia Forum, etc.
Despite COVID-19, Higer has made breakthroughs by making its entry into the bus market in South Korea, Qatar, Russia, Serbia, etc. In addition, it has already secured an order of 1,815 units buses & coaches for 2022 Qatar World Cup.
By working closely with Scania, Higer Scania has been enjoying a fast growing popularity in many EU countries. On May 18, Scania Higer officially released its new city bus Fencer in UK. According to the bus maker, Fencer is mainly targeted at the high-end bus market in Europe.
Higer always attaches paramount importance to innovation. From 2018 to 2020, the company has launched 14 R&D projects on electric buses, hydrogen fuel cell buses and autonomous driving buses. Currently, Higer boasts a wide spectrum of buses and coaches measuring from 4-meter to 18-meter in length. In the intelligent internet-connected bus sector, it has rolled out G-BOS Intelligent Operation System and has already obtained over 70 patents and is playing a leading role in making rules and regulations for the whole industry. Higer Deepblue autonomous driving electric bus owns seven major technologies and has already been put into operation in China.
At the end of 2020, Higer hydrogen fuel cell buses were put into operation in Shanghai, Suzhou, Zhangjiagang and Changshu, etc. Higer hydrogen fuel cell heavy-duty trucks were also delivered to Baosteel for commercial operation.
"I have witnessed the fast growth of Chinese brands in the past fifteen years and I hope more people could better understand China through Chinese brands", said Steve Woolgar, Chairman of World Brand Lab and an honorary professor of Oxford University.
Editor:Isabella
Related China Bus News