Ankai Bus Continues to Strengthen its Presence in Suzhou
2021-05-14 Source:www.chinabuses.org
Summarize:A batch of Ankai A6 buses was officially delivered to Suzhou Chunqiu Auto Service Co , Ltd
Recently, a batch of Ankai A6 buses was officially delivered to Suzhou Chunqiu Auto Service Co., Ltd. (hereafter referred to as Chunqiu Auto) In less than two years, Suzhou-based Chunqiu Auto has made purchases of A6 buses from Ankai in three different batches.
Arriving in Suzhou, Ankai A6 buses are set to providing commuting services for commuters and further strengthen the overall competitiveness of Chunqiu Auto in Suzhou.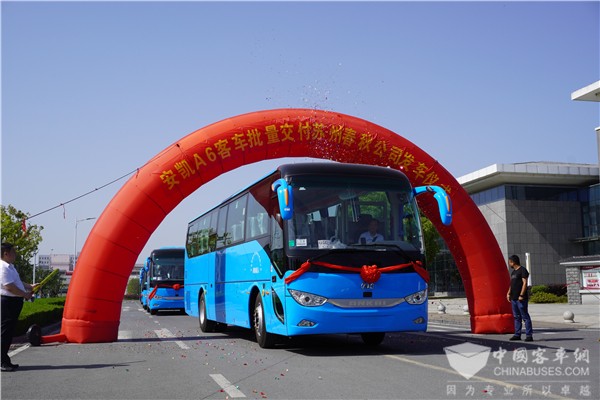 In 2020, Chunqiu Auto set its eye on Ankai A6. After several rounds of comparison and selection, it finally made the decision to introduce the bus to Suzhou.
As one of the fist products of Ankai, A6 is particularly designed for the tourist and commuter transportation market. Further cutting the fuel consumption by over 15%, the bus creates more economic returns to its operators.
Equipped with such advanced technologies as front collision protection technology, intelligent management system, fatigue driving alarming system, tire pressure monitoring system, panoramic viewing mirrors, lane deviation alarming system, Ankai A6 achieves higher safety standards.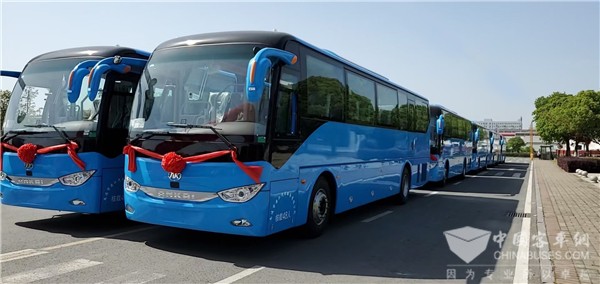 With ergonomically designed seats and NVH technologies, A6 bus creates a more quiet and comfortable traveling environment for passengers. Through its internal environment management system and ventilation system, the bus is able to get fresh air in just five minutes.
Established in 2006, Chunqiu Auto is specialized in providing tourist transportation, commuter transportation, auto rental services. Committed to providing greener and more convenient transportation services for passengers, Chunqiu Auto introduced its first Ankai bus in 2009. Along with its expanding business in the commuter transportation market in Suzhou, Wuxi and Changzhou, it quickly purchased hundreds of Ankai buses to serve its customers.
Editor:Mark
Related China Bus News