BYD to Deliver Electric Buses to Germany for Operation
2021-03-05 Source:www.chinabuses.org
Summarize:BYD officially announced that it signed a Cooperative Framework Agreement for Electric Bus Purchases in 2021 with DB Regio Bus, a subsidiary of Deutsche Bahn in Germany According to the agreement, the bus maker will deliver the first batch of five units BYD 12-meter electric buses will soon be delivered to Ettlingen, Baden-Württemberg, Germany for operation
On March 3, BYD officially announced that it signed a Cooperative Framework Agreement for Electric Bus Purchases in 2021 with DB Regio Bus, a subsidiary of Deutsche Bahn in Germany. According to the agreement, the bus maker will deliver the first batch of five units BYD 12-meter electric buses will soon be delivered to Ettlingen, Baden-Württemberg, Germany for operation.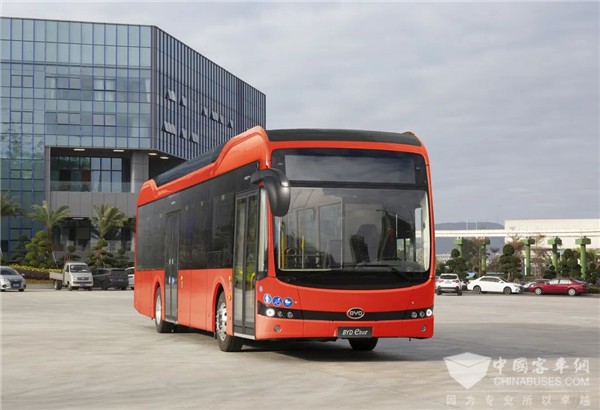 Recently developed by BYD, the 12-meter electric bus made its debut at Busworld Brussels in 2019. With a "home from home" design concept, the bus provides a won Germany iF Design Award in March, 2020.
Equipped with highly integrated controllers and 422 kWh batteries, the 12-meter BYD electric bus achieves even higher safety standards and higher energy efficiency. Thanks to its FleetLink, a highly intelligent bus monitoring and diagnostic system, bus operators can better manage their vehicles and further cut their operation and maintenance costs.
"BYD has already gained wide recognition in Germany's auto market. As we are committed to providing zero-emission transportation solutions to our global customers, we have found common ground with local governments and bus operators in Germany, creating many opportunities for our cooperation", said He Yipeng, General Manager of BYD Europe Co., Ltd.
Deutsche Bahn is chiefly involved in railway goods and passenger transportation. In addition, it is the largest bus operator in Germany. Boasting over 10,000 units buses in operation, the company provided transportation services to over 500,000,000 passengers in 2019.
Editor:Mark
Related China Bus News