BAIC Foton to Strengthen Efforts to Promote China's Fuel Cell Vehicle Industry
2020-09-14 Source:www.chinabuses.org
Summarize:On September 8, on the opening day of China International Fair for Trade in Services, Beijing Hydrogen Energy Industry Policy and Project Release Conference was held On the conference, Beijing Municipal Bureau of Economy and Information Technology officially revealed Beijing Hydrogen Fuel Cell Vehicle Development Plan (2020-2025) On the same day, Daxing International Hydrogen Energy Demonstration Zone started operation
On September 8, on the opening day of China International Fair for Trade in Services, Beijing Hydrogen Energy Industry Policy and Project Release Conference was held. On the conference, Beijing Municipal Bureau of Economy and Information Technology officially revealed Beijing Hydrogen Fuel Cell Vehicle Development Plan (2020-2025). On the same day, Daxing International Hydrogen Energy Demonstration Zone started operation.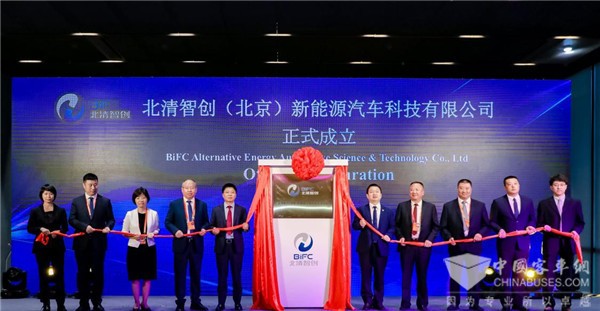 BAIC Foton, one of the leading players in China's automobile industry, officially released its Fuel Cell Vehicle Strategic Plan and put its first units 32T liquid-hydrogen powered heavy-duty truck on display. The new vehicle is particularly targeted at the mining industry, civil engineering sector, urban construction waste transportation sector and long-distance logistic sector.
Jointly funded by major industrial players, including Foton, Beiqing Zhichuang (Beijing) New Energy Vehicle Co., Ltd. was established to promote the commercialization of hydrogen powered vehicles and upgrade the industrial structure in the capital city. Considering the lack of industrial synergy and the absence of more integrated solutions, the new company is committed to further integrating the industrial resources and helping customers lower the costs. It will be engaged in developing a whole range of hydrogen powered commercial vehicles, providing hydrogen energy, SAAS services, big data services, testing services, hydrogen refilling services and industrial consulting services, etc.
Also at the conference, BAIC Foton signed a strategic cooperation agreement with CNPC (also known as PetroChina) in building the first hydrogen refilling station in Beijing. In addition, it formed a strategic cooperation alliance with Sinopec and Qingcheng Wulian to jointly build a hydrogen energy industrial chain.
While promoting an innovation-driven development, BAIC Foton has made impressive achievements in developing fuel cell commercial vehicles. In 2019, it won China Automobile Industry Technological Innovation First Prize. Currently, it boasts a wide spectrum of hydrogen powered commercial vehicles, including city buses, intercity buses, light trucks, mid-trucks and heavy-duty trucks. According to Zhang Xiyong, president of BAIC Foton, the company aims to put 4,000 units hydrogen powered commercial vehicles on the road by 2023, 15,000 units such vehicles by 2025, and 200,000 units by 2030.
Editor:Lucy
Related China Bus News