Allison Spotlights Paula Chen at International Women's Day
2019-03-10 Source:Allison
Summarize:In celebration of InternationalWomensDay, we would like to spotlight Paula Chen, Deputy Managing Director of China
In celebration of InternationalWomensDay, we would like to spotlight Paula Chen, Deputy Managing Director of China Sales for Allison Transmission. Paula has a BS in Economics from Tianjin Economic and Finance Institute and a MBA from CIBT Business School. She began working for Allison in 1988 and has since continued to rise through leadership positions. She received the President's Award in 2006 for her contributions to extensively expanding Allison's position particularly in bus applications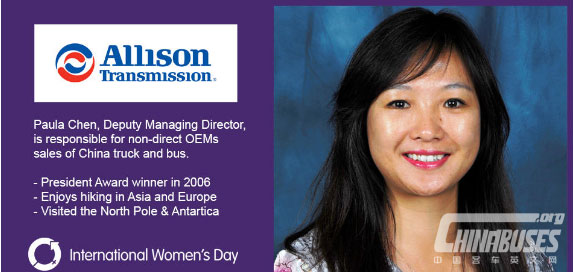 In her personal time, Paula enjoys the outdoors with camping and hiking in remote locations. Paula is also a leader in her community where she organized a charity for the Yushu Tibet Autonomous County of Qinghai after a tragic earthquake in 2010.
Paula is grateful for the growth opportunities Allison has given her over 30 years. She likens Allison to her family where she grew up and can now be an elder sister who can help and support others within the company.
Paula - Thank you for your commitment to Allison and Happy International Women's Day.
Editor:Ida
Related China Bus News