Changan and BYD to Joint Build Power Batteries
2018-07-11 Source:www.chinabuses.org
Summarize:On July 5, Changan and BYD signed a strategic cooperation agreement in Shenzhen Zhu Huarong, president of Changan, Wang Chuanfu, president of BYD, together with a number of other high-level officials, witnessed the historical moment
On July 5, Changan and BYD signed a strategic cooperation agreement in Shenzhen. Zhu Huarong, president of Changan, Wang Chuanfu, president of BYD, together with a number of other high-level officials, witnessed the historical moment.
According to the agreement, the two companies will jointly set up a new company specialized in manufacturing and marketing power batteries. By pooling the optimal resources from both companies, the new company aims to provide greener and more intelligent power solutions for passengers.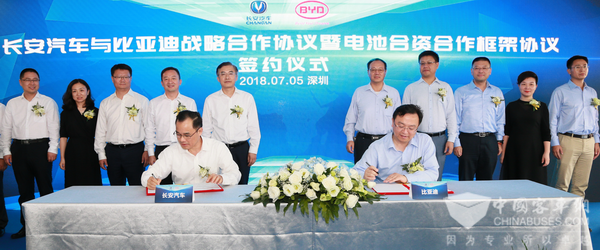 It is also revealed that the company will be located in Liangjiang New Area, Chongqing. As investors, Changan and BYD will carry out in-depth cooperation in developing power batteries and promoting the overall development of new energy vehicle industry. Changan will also have shares in BYD's battery business, further strengthening the two parties' comprehensive and strategic cooperation.
"Our cooperation with Changan marks a new milestone in BYD's history. In the future, BYD will speed up its expansion in power battery business and further solidify its leading position in the industry," said Wang Chuanfu.
Early this year, Changan launched a new initiative, aiming to make smooth transitions in four business areas. "By working more closely with BYD, we hope to set up a role model in China for business cooperation and usher a brand new era for China's intelligent and new energy vehicle industry," said Zhu Huarong.(www.chinabuses.org)
Editor:
Related China Bus News