Weichai Power Joins Hands with Bosch in Developing Fuel Cells
2017-11-24 Source:www.chinabuses.org
Summarize:On November 21, Weichai Power officially signed a comprehensive framework agreement for cooperation with Bosch in Stuttgart in Germany Li Qun, Vice Governor of Shandong Province, Tan Xuguang, president of Weichai Power, Dr Volkmar Denner, Chairman of the Board of Bosch Group attended the signing ceremony
On November 21, Weichai Power officially signed a comprehensive framework agreement for cooperation with Bosch in Stuttgart in Germany. Li Qun, Vice Governor of Shandong Province, Tan Xuguang, president of Weichai Power, Dr. Volkmar Denner, Chairman of the Board of Bosch Group attended the signing ceremony.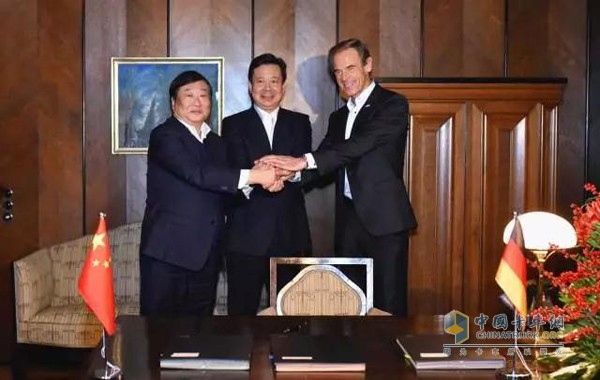 According to the agreement, the two parties will carry out cooperation in the following areas:
1. The two parties will jointly develop fuel cells, related spare parts and set up internationally competitive fuel cell vehicle industrial chain.
2. In the era of industry 4.0, Weichai Power will build internationally advanced digital factories, improving their overall automation level and adding more intelligent elements.(www.chinabuses.org)
Editor:
Related China Bus News