Chen Dulian Addressed on Golden Dragon 25th Anniversary Celebration
2017-11-10 Source:www.chinabuses.org
Summarize:Navigator is equipped with a whole set of power driveline, suspension bridge, front & rear axle made by Benz Its big-torque hydraulic retarder, AEBS, lane deviation alarming system made by Israel-based Mobileye, tire pressure monitoring, flat tire prevention device, and night navigation system help the vehicle deal with all possible challenges on the road with more ease Soon, our Navigator equipped with Benz Euro VI power driveline will hit the high-end market across the world
Distinguished guests, ladies and gentlemen,
Today, I am extremely pleased to reveal Navigator, a newly developed bus by Golden Dragon to all of you.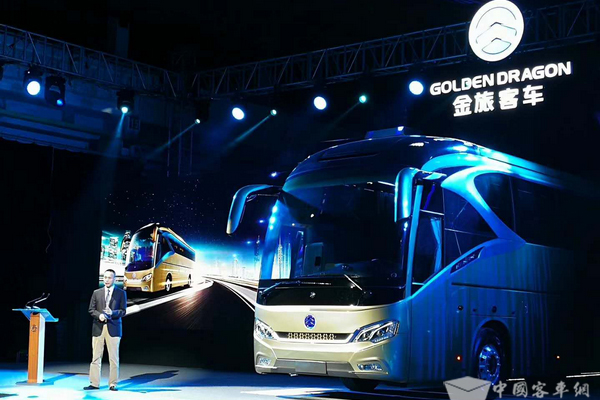 We have been constantly asking ourselves what kind of high quality buses we should make and how we continue taking our lead in the global bus manufacturing industry. It now seems inevitable that future vehicles will play an increasingly significant role in people's lives rather than just a transportation tool. In response to people's rising demands, we feel an enormous urge to develop new buses and coaches that will define our time. Navigator, with a posh look, higher safety standards, powerful performances, better maneuverability, more travel comforts, improved fuel economy and increased reliability, is set to bring some revolutionary changes to this new era. It is no longer just a bus product. Rather, it is a work of art.
By working closely with the globally renowned DCA based in the UK, we have introduced avant-garde CMF concept into the whole process of our vehicle's interior design. In doing so, passengers are pampered by a host of travel comforts, such as a wide array of lighting choices, futuristic seats, digital temperature controls, wireless VOD system, and touch screens.
Navigator is equipped with a whole set of power driveline, suspension bridge, front & rear axle made by Benz. Its big-torque hydraulic retarder, AEBS, lane deviation alarming system made by Israel-based Mobileye, tire pressure monitoring, flat tire prevention device, and night navigation system help the vehicle deal with all possible challenges on the road with more ease. Soon, our Navigator equipped with Benz Euro VI power driveline will hit the high-end market across the world.
With a more streamlined body structure, Navigator uses Q700 high-strength steel at all its key areas. With a wind drag coefficient standing at just 0.5, the vehicle boasts the best NVH performance among all vehicles made in China.
The vehicle's lighting system is also worth mentioning, which makes the vehicle highly visible and immediately gives passengers a sense of luxury.
"Navigator is superbly excellent", our customers in Dubai commented.
Navigator represents our company's relentless efforts to improve people's traveling experiences and our never-changing commitment to innovation. It also represents a new height for China's bus manufacturing industry.
Thank you!
Editor:
Related China Bus News