Peng Dongqing Addressed on Golden Dragon 25th Anniversary Celebration
2017-11-10 Source:www.chinabuses.org
Summarize:Words cannot describe how pleased I am today to attend the 25th anniversary of Golden Dragon and the debut of our Navigator On behalf of Golden Dragon, I want to extend my warmest welcome and my heart-felt thanks to you all
Distinguished guests, ladies and gentlemen,
Good evening!
Words cannot describe how pleased I am today to attend the 25th anniversary of Golden Dragon and the debut of our Navigator. On behalf of Golden Dragon, I want to extend my warmest welcome and my heart-felt thanks to you all.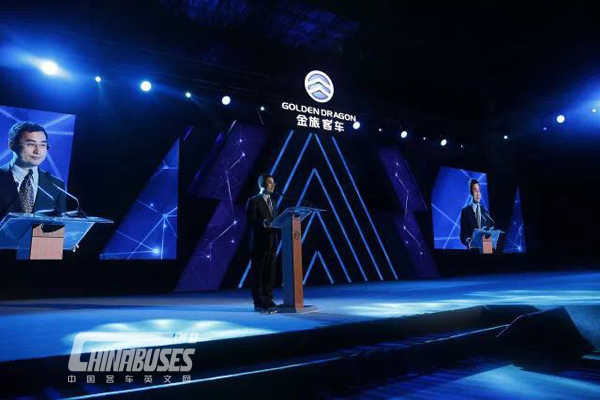 Twenty-five years ago, Golden Dragon was set up in Xiamen with only 30 workers and a production area of 2,000 square meters. With a sales volume of 13 units buses in the first year, we did not give up our dream to bring our buses to the global market. With our perseverance and commitment, we have been growing robustly in the past two decades and have made our own mark in China's and the world's bus manufacturing industry.
At present, boasting an annual sales volume of 25,000 units large- and medium-sized buses and coaches as well as 20,000 units light buses, Golden Dragon has become one of the leading bus makers in China with a huge presence in the overseas market. In 2016, we sold 23,000 units buses and coaches and realized a sales revenue of eight billion RMB.
Committed to transforming the public transport sector and satisfying our customers' rising demands, we have been striding forward with an unswerving enterprising spirit. In 2008, Golden Dragon built China's first whole vehicle cathode EP (electrophoresis) production line.
In 2009. our introduction of monocoque body structures has upgraded our vehicles' anti-corrosion and durability to an unprecedented high level.
With a pioneering spirit, we have made a number of records in the emerging new energy bus manufacturing industry.
In June, 2017, Golden Dragon's first driver-less bus officially hit the road at National Intelligent Internet-Connected Vehicle Demonstration Pilot Zone.
In recent years, we have successfully developed a wide spectrum of new vehicles, including Super D8, Coaster business premium, Triumph, and Splendor. Currently, we are working closely with DCA based in the UK and Mercedes-Benz based in Germany. With a young and innovative R&D team, we have rolled out Navigator, which has made several technical breakthroughs and set a new height for the world's bus manufacturing industry. In addition, our state-of-art production base located in Longhai, Zhangzhou, will soon start operation.
At last, on behalf of Golden Dragon, please allow me to express our heart-felt gratitude to you all for your unfailing supports in the past years. For the years to come, we sincerely hope that we can further deepen our cooperation and continue to create miracles in this new era.
Thank you!
Editor:
Related China Bus News