Golden Dragon Set to Make a Splash at BusWorld Kortrijk 2017
2017-10-15 Source:www.chinabuses.org
Summarize:Known as the trend-setter in the world's bus manufacturing industry, BusWorld Kortrijk 2017 will soon raise its curtain in Belgium Golden Dragon, attending the exhibition for the third time, will put its latest vehicles on display, including Pivot electric city bus, diesel-powered Pivot city bus, and luxury Navigator coach Its exhibition booth, covering an area of 600 square meters, will be located at No 301 in No 3 Exhibition Hall
Known as the trend-setter in the world's bus manufacturing industry, BusWorld Kortrijk 2017 will soon raise its curtain in Belgium. Golden Dragon, attending the exhibition for the third time, will put its latest vehicles on display, including Pivot electric city bus, diesel-powered Pivot city bus, and luxury Navigator coach. Its exhibition booth, covering an area of 600 square meters, will be located at No. 301 in No. 3 Exhibition Hall.

With a low-floor access, Pivot electric city bus is especially targeted at European market. With LED lamps, the vehicle assumes an awe-inspiring look and achieves higher energy efficiency. Its front can be taken apart in four pieces, making its repair and maintenance much easier. Customers can choose a design with two doors or three doors. With spacious room on board, passengers can enjoy wide views. In addition, its heat-pump air-conditioning system makes the traveling environment much more comfortable. Also, a wide variety of passenger seats and seating layouts are available to suit the special needs of customers and passengers. Equipped with 304KWh lithium iron phosphate batteries and a high-power and density permanent magnetic synchronous motor with a maximum torque of 3,600 N•m, the vehicle generates zero emissions and boasts high safety standards. After being recharged, the bus can drive over 300 km continuously. With its AC in operation, the vehicle only consumes 1-1.3 kilowatt hours of electricity.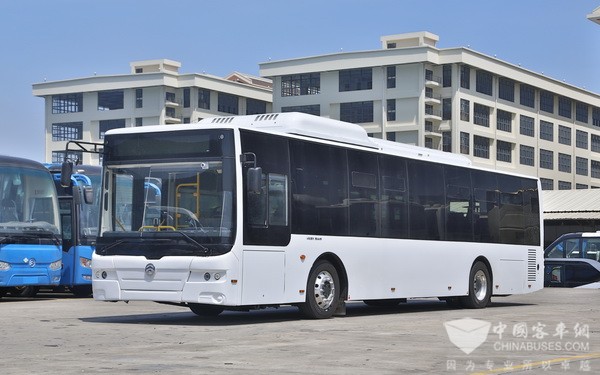 PIVOT-ELECTRIC
Golden Dragon Pivot-diesel is also a low-floor access city bus. Built on the huge success of 6125 city bus, the vehicle fully meets EU ECE requirements. Equipped with the most environmentally friendly technologies and materials, the bus is set to bring huge economic returns for bus operators.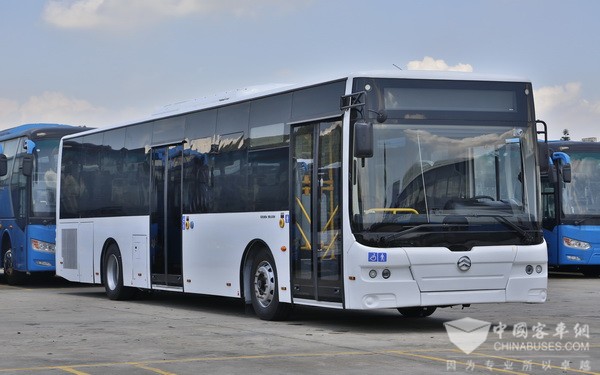 PIVOT-DIESEL
Navigator luxury coach is a newly developed vehicle for the high-end passenger transport market. Having made several breakthroughs in both design and production, Navigator is set to further strengthen Golden Dragon's business presence in the global market. By closely working with UK-based DCA for three years, Golden Dragon successfully rolled out Navigator to demonstrate its formidable strengths in bus manufacturing industry.
In terms of safety standards, energy efficiency, energy storage, recharging, vehicle management and on-board recreation, the three vehicles boast their unique strengths, fully showcasing the bus maker's latest achievements in new energy vehicle development, human engineering and internet of things.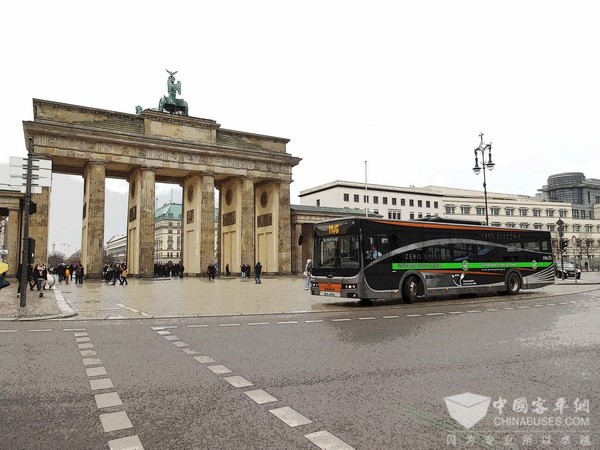 As one of the pioneers in exploring global business, Golden Dragon has made impressive achievements in European market. So far, a number of its bus products have obtained WVTA certificate from EU. In the meantime, its buses have successfully made their way to Finland, Netherlands, France, etc. Its whole-aluminum electric bus, jointly developed with Netherlands-based bus maker Ebusco, won the Eco-bus Award at BusWorld. In addition, Golden Dragon electric city buses can readily be seen in Paris and Israel.(www.chinabuses.org)
Editor:
Related China Bus News