Shangrao Bus Secures a 700-Million-Worth Deal
2017-04-05 Source:www.chinabuses.org
Summarize:On March 28, Benergy Shangrao Bus Co , Ltd (hereafter referred to as Shangrao Bus) successfully secured a 700-million-worth deal with Suzhou AVT Group and Shanghai Dingshi Group According to Shangrao bus, it will provide 1,000 units new energy buses to its customers in the near future The deal is not only the biggest one ever signed by Shangrao Bus, but it has also smashed the record in this year's new energy bus industry
www.chinabuses.org: On March 28, Benergy Shangrao Bus Co., Ltd. (hereafter referred to as Shangrao Bus) successfully secured a 700-million-worth deal with Suzhou AVT Group and Shanghai Dingshi Group. According to Shangrao bus, it will provide 1,000 units new energy buses to its customers in the near future. The deal is not only the biggest one ever signed by Shangrao Bus, but it has also smashed the record in this year's new energy bus industry.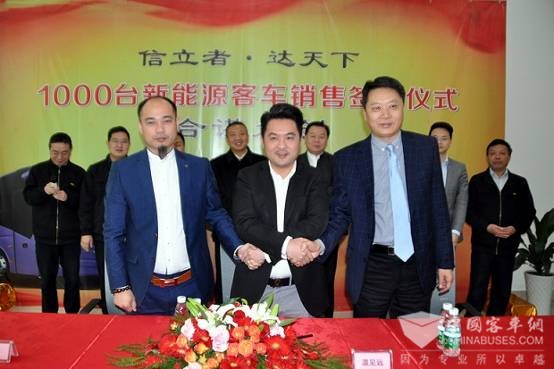 Since 2013, Shangrao Bus has maintained an annual growth rate of over 150%. In 2016, it became one of the top ten bus makers in China. According to the company, its new energy bus production base, which covers an area of 1,200 mu, is now under construction and will be put into operation in 2018. With a total investment of three billion RMB, the new production base will be able to roll out 30,000 units new energy buses each year. In addition, the bus maker's lithium battery production base located in Shangrao Economic Development Zone, has already been put into operation. With a total investment of 2.1 billion RMB, the base will greatly assist Shangrao Bus in its expansion in the new energy bus industry.
Suzhou AVT Group now boasts over 2,000 units new energy vehicles and it provides commuting services to over 500 enterprises in Suzhou. Shanghai Dingshi Group is specialized in investing in automotive and mechanical industry. By joining hands with Suzhou AVT Group, the company is aiming to expand its business to the green public transport market.
Editor:
Related China Bus News