Yutong 18-meter Double Energy Powered Trolley Went into Operation in Shanghai
2017-02-23 Source:www.chinabuses.org
Summarize:In February, 40 units Yutong 18-meter double energy powered trolleys ZK5180A and 28 units 12-meter double energy powered trolleys ZK5120C officially went into operation on the bus route No 71 in Shanghai With a brand new appearance, the trolleys have immediately won the popularity among Shanghai citizens, bringing people more travel conveniences
www.chinabuses.org: In February, 40 units Yutong 18-meter double energy powered trolleys ZK5180A and 28 units 12-meter double energy powered trolleys ZK5120C officially went into operation on the bus route No. 71 in Shanghai. With a brand new appearance, the trolleys have immediately won the popularity among Shanghai citizens, bringing people more travel conveniences. With a distance of 17.5 kilometers, No.71 bus route in Shanghai has 25 stations between Shenkun Road and Yan'an East Road. As a major bus route on the trunk lines in the city, it is the first Medium-Capacity Transit System in the city.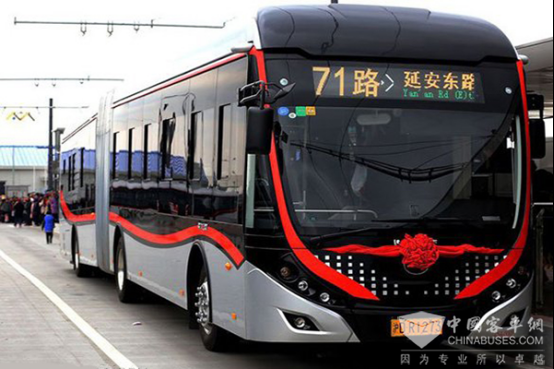 With "whole-distance line + sectional line" operation mode, the 18-meter ZK5180A (with 35 passenger seats and a maximum loading capacity of 150 passenger) is chiefly responsible for the whole-distance line operation while the 12-meter ZK5120C is in charge of the sectional line operation. With their low-floor access, passengers can directly board the vehicle from bus station platforms without any efforts to climb on the bus. Moreover, wheelchair area has been assigned to provide travel convenience for those physically challenged passengers. Outside the vehicle, an emergency door control device is made to help passengers get off the vehicle in emergent situations. One big highlight of the trolleys is their double energy power system. Yutong ZK5180A and ZK5120C, they both could be powered by battery units and electricity through pantograph.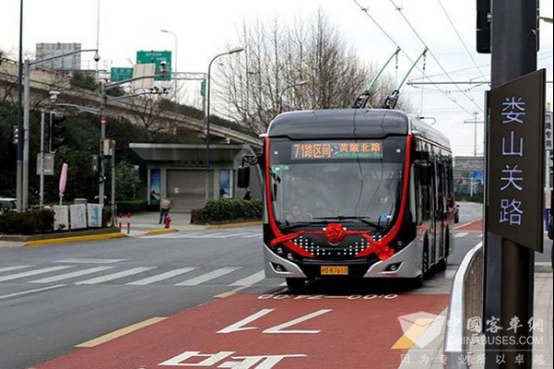 Thanks to the special bus lane, the average operation speed has increased from 13 kilometers / hour to 15 kilometers / hour, according to the data collected during the trial operation period. Thus, the round-trip operation time has been reduced from 85 minutes to 75 minutes. What's more, the bus route No.71 witnessed 4,000 passengers / hour in recent operations. It is expected to see a passenger flow of 6,000 every hour. In sharp contrast, the regular bus route usually has a passenger flow of 1,500 every hour. With its much increased passenger flow, bus route No.71 has significantly eased the traffic pressure in Shanghai's public transport system.
According to some official from Shanghai Public Transport Bureau, the city is planning to build three 18-meter double energy powered trolley bus operation lines, shouldering public transportation tasks on the main traffic routes in Shanghai and building some model public transport lines in China.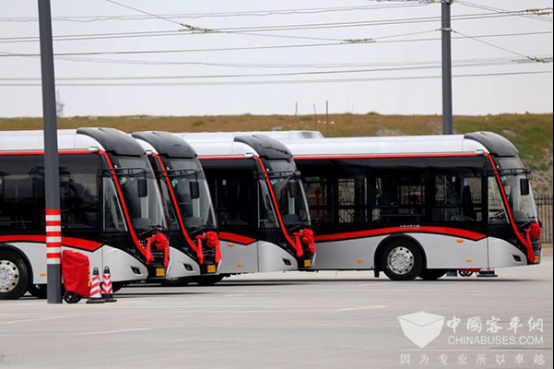 Medium-Capacity Transit System, a new public transport concept, has been gaining popularity in recent years. Different from rail public transport and regular buses with small loading capacity, Medium-Capacity Transit System is usually able to transport 5,000-30,000 people per hour in one direction. BRT, trolleys and trolleybuses usually fall into this category.
In June 2016, the first BRT route from Nanqiao, Fengxian District to Oriental Sports Center started construction. It is scheduled to open in December this year. After its operation, the travel time between the two places will be reduced to just 45 minutes.
Editor:
Related China Bus News