www.chinabuses.org: In 2016, Yutong, China's leading bus maker, sold a total number of 26,856 units new energy buses, fully demonstrating its rising popularity in the emerging industry. Looking back, the bus maker made several big splashes in China's new energy industry over the past year.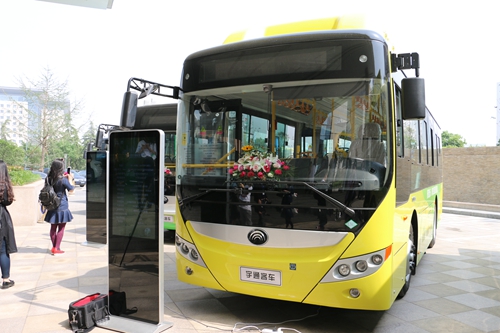 1.Yutong H8 and fuel cell buses made their debut
In 2016, Yutong officially rolled out two fist products, including H8 plug-in hybrid city bus and a fuel cell bus. Equipped with ReCtrl 3.0 system, H8 aims to become the most ideal plug-in hybrid city bus for medium-sized cities. With a lower weight, highly efficient electric drive and braking systems and highly intelligent control systems, H8 is able to cut fuel consumption by over 42%. Moreover, with increased passenger loading capacity, H8 achieves higher profitability compared with its counterparts, thus it is well positioned to meet the growing demands for new energy buses in China's small- and medium-sized cities.
On January 23, 2016, Yutong fuel cell bus made its official debut at China EV100 Summit. On May 23 in the same year, its third generation fuel cell bus appeared at Beijing Bus & Truck Expo, ushering a brand new era for China's fast-growing new energy vehicle industry. Within next two years, Yutong will continue to focus on seeking technological breakthroughs and building infrastructure needed for the operation of fuel cell buses. The bus maker is making an all-out effort to popularize over 1,000 units fuel cell buses by 2020.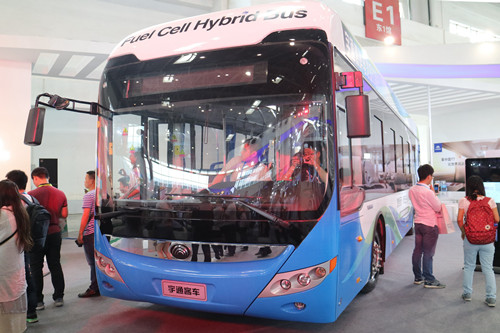 2.Yutong E8 full electric city bus: a rising star in the market
Yutong E8, also known as ZK6805BEVG, sold over 14,000 units in 2016, making a sizable contribution to Yutong's overall sales volume of new energy buses in 2016. Built on a brand new developing platform in October, 2014, the vehicle went into the market in six months and gained instant popularity among bus operators.
3.Yutong launched new energy city bus operation mode.
At Shandong New Energy Application Exchange Conference, Yutong officially launched its new energy city bus operation mode, providing comprehensive and tailor-made green public transportation solutions for its customers. With a wide spectrum of new energy buses measuring from 6 to 18 meters in length, whole life-cycle vehicle management, and unparalleled after-sales services, Yutong is aiming to further cut down the operating costs for its customers.
Linyi Public Transportation Group introduced over 270 units Yutong full electric city buses measuring 8-10 meters in length in recent two years. Thanks to their smooth operation, these vehicles have long won the hearts and confidence of their operators, local governments, passengers and bus drivers.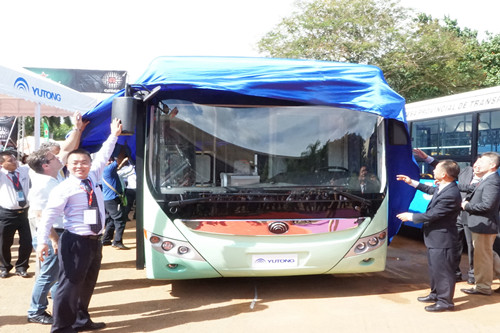 4.Yutong realized new breakthroughs in both domestic and overseas market.
In 2016, Yutong appeared at a number of high-profile events held both in China and abroad. In March, 2016, Yutong E10 full electric buses became the first batch of new energy buses that ever served at China's annual NPC and CPPCC sessions.
On October 31, 2016, Yutong full electric bus ZK6125BEVG11 was displayed at Havana International Fair, making a big splash in the country and showing the bus maker's readiness to put more new energy buses on the road in the overseas market.
5.Yutong offered 3.3 million worth new energy vehicle development prize.
Yutong has always been attaching paramount importance to technological innovation. On October 25, 2016, Yutong held its annual conference on technological innovation and offered a whopping 3.3 million worth prize for its energy-saving and new energy bus key technological research & development and industrialization project.
Having overcome a host of difficulties, the project has successfully built a new platform for developing full electric buses and plug-in hybrid buses. In 2015, the project won the much coveted second prize of China's National Science and Technological Advances Award.