Golden Dragon Outshines its Rivals in Macao
2017-01-10 Source:www.chinabuses.org
Summarize:Since 2013, it started cooperation with Golden Dragon After several years' relentless efforts, Golden Dragon has developed strong sales distributors and established a formidable presence in the city "It (Golden Dragon) not only has high quality traditional fuel powered buses, but also highly reliable new energy products, especially its electric buses
www.chinabuses.org: Macao, once known as Haojiang, is located in southeast China, with Zhuhai to its north and Hong Kong to its east. Apart from its famous casinos, the city is also an internationally famed port and tourist destination. Despite its small size, it has long become the competing ground for many bus brands largely due to its influence in Southeast Asia and Portuguese-speaking countries.
Xinxiongxing Group, consisting of over ten subsidiaries, such as Xiongxing Real Estate Development Co., Ltd., Macao Tianma Travel Agency Co., Ltd., Zhongxing International Travel Agency Co., Ltd., and Huafeng Automotive Service Center, is a well-known indigenous enterprise in Macao. Since 2013, it started cooperation with Golden Dragon. After several years' relentless efforts, Golden Dragon has developed strong sales distributors and established a formidable presence in the city. "It (Golden Dragon) not only has high quality traditional fuel powered buses, but also highly reliable new energy products, especially its electric buses, which give us the hope to quickly build green urban public transportation networks in Macao", says Dr. Zhang Mingxing, president of Xinxiongxing.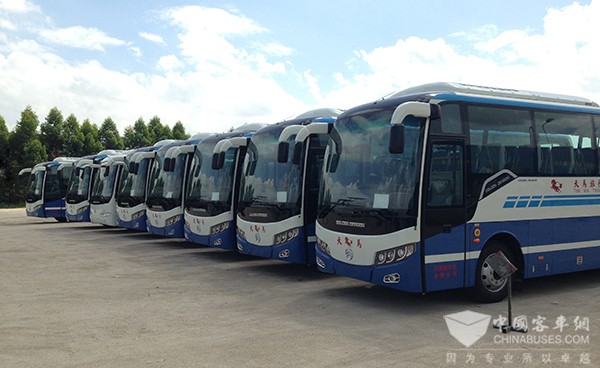 As one of the pioneers in exploring the tourism market in Macao, Xinxiongxing has become one of the top players in the city's booming tourism industry. To improve its overall competitiveness, it has introduced over 80 units coaches and set up its own repair factory. Dr. Zhang Mingxing, president of Xinxiongxing, revealed that his company used to import coaches from Europe and Japan, but in recent years, his company has seen an increasing number of buses & coaches from China. According to some estimate, over one third of buses and coaches now in operation in Macao are made in China.
Editor:
Related China Bus News