Yutong Made Big Splashes in China's School Bus Market
2017-01-10 Source:www.chinabuses.org
Summarize:www chinabuses org: In 2015, Yutong sold over 8,000 units school buses, gaining a market share of 33% In 2016,
www.chinabuses.org: In 2015, Yutong sold over 8,000 units school buses, gaining a market share of 33%. In 2016, the company's sales volume of school buses increased to 9,000 units and its market share jumped to 50%.
In June, 2016, Yutong secured a deal of 248 units school buses from Jiangsu. Thus, it is set to serving over 12,000 students from 24 schools in Nanjing. In the same month, it became the first batch of school buses appearing on the streets in Zhanjiang city. In July, Yutong became the official carrier for Canadian International School in Beijing after signing a strategic cooperation agreement with the school. In December, 12 units Yutong school buses were bought by Changsha Xiangyi School Bus Service Co., Ltd., which has been making purchases from Yutong for six consecutive years.
As the undisputed No.1 school bus brand in China, Yutong launched "Kangaroo Action---School Bus Safety Lecture" in China in August, 2015. Since then, it has organized a series of activities to raise the public's awareness of the importance of school bus safety among bus operators, school kids, school authorities, and parents. In 2016, Yutong Happy School Kids and Yutong School Bus Drawing Competition have generated significant impacts on the public and wide publicity for the company.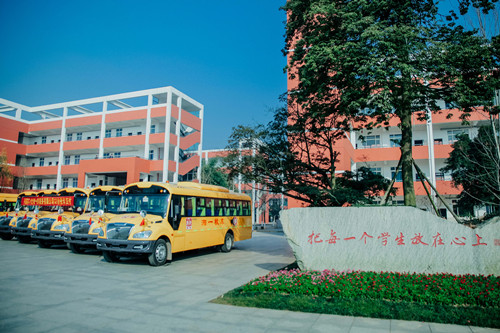 In the whole year of 2016, Yutong held nearly 60 school bus safety lectures in over 20 provinces, autonomous regions and municipalities across China, reaching 20,000 audiences. Apart from spreading the knowledge about school bus safety, it also held School Bus Safety Management Seminars and Forums, which have become the new platforms for industrial insiders to exchange views and share experiences as well as to hear the voice of school bus operators.
In July 2016, Yutong School Bus Forum was held, which attracted over 200 participants from various organizations, such as governmental department in charge of the supervision of school bus operation, school bus operators, and educational institutions. At the forum, how to finance the school bus purchases and operation became the focus of discussion for all participants. Through such a forum, Yutong had opportunities to know its customers' needs and concerns. In the meantime, customers gained a deeper understanding of its own needs and were more prepared to make informed decisions.  
Editor:
Related China Bus News