100 Units North Electric City Buses Started Official Operation in Pinggu, Beijing
2017-01-06 Source:
Summarize:www chinabuses org: On December 30, 2016, a grand ceremony was held in Pinggu, Beijing, to celebrate the delivery
www.chinabuses.org: On December 30, 2016, a grand ceremony was held in Pinggu, Beijing, to celebrate the delivery of 100 units North electric city bus BFC6809GBEV to their operator, Beijing Xinshun Passenger Transportation Co., Ltd. Starting from the first day in 2017, these batch of new energy buses will be put into offical operation.
As a major new energy product of North Bus in 2016, BFC6809GBEV measures 8.09 meters in length. It has pushed the bus safety standard to a new historical level and further optimized its interior layout. With Neoplan monocoque body structure and air bag suspension system, the vehicle promises its passengers with more travel comforts. As the vehicle has cut its weight by 4%, it now achieves higher fuel economy. Under the DC recharge mode, the bus is able to drive 150-180 km continuously after one recharge, fully meeting the daily operation tasks in suburban areas in Beijing.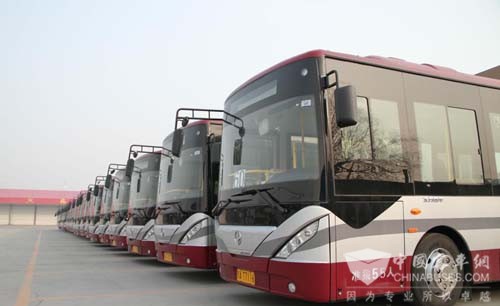 Headquartered in Beijing, North Bus has been always committed to building sustainable public transport system with state-of-art new energy bus manufacturing technologies. According to Pinggu government, the district replaced 330 units outdated diesel powered buses at the end of 2016. By 2019, only new energy buses and clean energy buses will be allowed to operate on its roads.
Editor:
Related China Bus News