Higer in Service for Shanghai Jinqin for 12 Years
2017-01-05 Source:www.chinabuses.org
Summarize:Now with over 1,000 units vehicles in varied sizes, the bus operator enjoys wide recognition in automotive service industry The company introduced its first Higer bus in 2005 Now, 80% of the company's coaches are branded with Higer The two companies have been in close cooperation for twelve years
www.chinabuses.org: Shanghai Jinqing Automotive Service Co., Ltd. (hereafter referred to as Shanghai Jinqin) was set up in 2003. Now with over 1,000 units vehicles in varied sizes, the bus operator enjoys wide recognition in automotive service industry. The company introduced its first Higer bus in 2005. Now, 80% of the company's coaches are branded with Higer. The two companies have been in close cooperation for twelve years.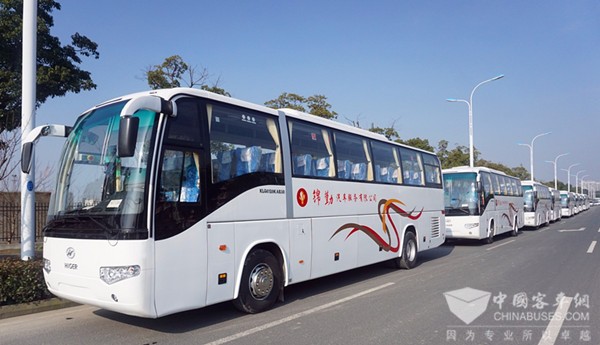 Along with their deepening cooperative ties, the two parties have expanded their cooperation to new areas. Now, Shanghai Jinqin provides commuting services for a number of enterprises and organizations in Shanghai. To meet the growing demand for commuting services, the bus operator bought 35 units Higer KLQ6129 buses in 2016, all of which have been put into service for Schindler (China) Elevators Co., Ltd.
Since early 2011, Higer G-BOS Intelligent Operating System has been bringing dramatic changes in Shanghai Jinqin in terms of its vehicle management. According to a person-in-charge from Shanghai Jinqin, Higer's state-of-art telematics technologies have not only helped the company overcome the challenges in fuel consumption, but also greatly improved its profitability and overall competitiveness. Now, Higer G-BOS Monitoring Room has realized both static and dynamic monitoring of drivers and vehicles of Shanghai Jinqin, helping the bus operator maintaining a fast growing momentum.
Editor:
Related China Bus News