Youngman Delivered Electric Buses to its Customers at the Year End
2017-01-05 Source:www.chinabuses.org
Summarize:On December 27, a total number of 88 units Youngman electric buses slowly drove out of the company's workshop and were delivered to their customer in Pujiang county in Jinhua According to the bus maker, this batch of new energy buses will make Pujiang the first county in China with electric buses for urban public transportation
www.chinabuses.org: On December 27, a total number of 88 units Youngman electric buses slowly drove out of the company's workshop and were delivered to their customer in Pujiang county in Jinhua. According to the bus maker, this batch of new energy buses will make Pujiang the first county in China with electric buses for urban public transportation.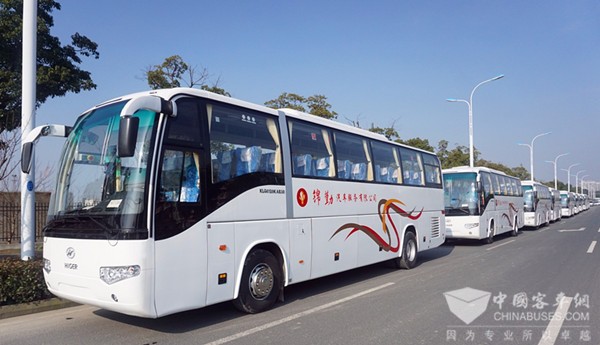 Just a few days ago , 50 units 12-meter Youngman electric buses arrived in Yiwu city for operation, becoming the carriers on the first BRT route in the city.
After over-a-decade's hard work, Youngman now boasts advanced manufacturing technologies. Its electric city buses, with classy appearance and independently developed recharging mode, have soon gained great popularity among bus operators.
In Jinhua city alone, Youngman electric buses now serve passengers on BRT route No. 1, 2, 3 and 4. They have long become one of the new highlights in the city. Thanks to its consistently reliable performances, Youngman electric bus has also made its way to a number of cities in China, including Xi'an, Guilin, Ji'an, Lvliang, Lianyungang, Xinzhou, etc.
Editor:
Related China Bus News