The 11th Great Influence to China Buses Industry Award Ceremony Kicks off in Beijing
2016-12-23 Source:www.chinabuses.org
Summarize:www chinabuses org: On December 23rd, 2016, The 11th Great Influence to China Buses Industry Reader Survey Awarding
www.chinabuses.org: On December 23rd, 2016, The 11th Great Influence to China Buses Industry Reader Survey Awarding Ceremony, hosted by Chinabuses.org, is held in Beijing. After one-month voting on line from domestic and overseas readers, 13 China buses were selected as 2016 China bus overseas market "National Star".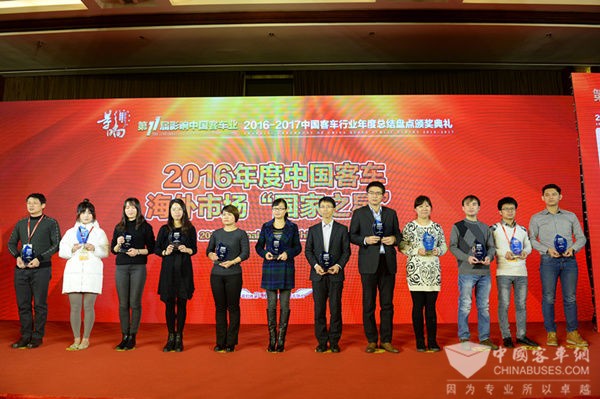 Great Influence to China Buses Industry is an important overseas bus selection activity for China buses, which has been successfully held for eleven years by far. During the selection, the awarded buses are basically the top buses with market shares in the respective region. Therefore, this ceremony has gained comprehensive attention.
We sincerely hope that these high-quality China buses can be brought to your services and more customers across the globe will be able to reap the benefits from operating Chinese buses and more passengers will be able to enjoy the travel comforts brought by Chinese buses.
In the future, in face of changing domestic and international markets, China buses will continue to stand in the international frontier with high-quality products, superb technique and all-round brand marketing to promote the rapid development of China bus industry.
Saudi Arabia Star: Higer KLQ6122B
Only making its debut in Saudi Arabia in 2015, Higer KLQ6122B now boasts an accumulated sales volume of 150 units. In 2016, Higer ranked the top place in both the export volume and total export value among all bus brands from China and it continued to be the first choice for pilgrims who are journeying to the holy city Mecca. Also, the royal family of Saudi Arabia has chosen KLQ6122B as their special carrier, providing transportation services between the airport and their royal palace.
Built on the huge success of KLQ6125B, KLQ6122B is another bus in Saudi Arabia with double fronts. Boasting a host of high-end spare parts, an excellent performance, and many travel amenities, the bus has further upgraded both its interior and exterior, making every detail of the vehicle an eye-catcher. So far, KLQ6122B has earned the trust and confidence of many passengers, becoming their all-time favorite bus.
Thailand Star: King Long bus XMQ6128SD
In 2012, 50 units LONGWIN tourist coaches were delivered to Thailand; In 2013, 568 units King Long buses were exported to the country just after the bus maker was invited to attend Thai International Construction Materials & Machinery Exhibition on which King Long brought its two high-end coaches on display; in 2015, 648 units luxurious King Long tourist coaches made their way to Thailand. After this, King Long bus fleet in the nation reached 1,300 units. This year, 515 units travel coaches are all now set to start their journey to Thailand, making the presence of King Long more readily visible in the country. As one of the representatives of well-known brands born in China, King Long has successfully won the hearts of many customers from the Thailand.
This year, the number of Chinese tourists traveling to Thailand is expected to reach 10 million, up by over 20% year on year. With a solid position in the country, King Long is undoubtedly going to embrace better business opportunities. Wang Huijuan, deputy consul general of Chinese Consulate General to Songkhla, Thailand says King Long's continued robust growth in Thailand is a great example of China-Thailand Cooperation. She is confident that King Long, with its high quality products and unparalleled post-sales services, will maintain a fast growing momentum in Thailand.
Israel Star: Golden Dragon Bus XML6125 Citybus Series
As one of the pioneers in exploring the overseas market, Golden Dragon has started cooperation with Auto-Chen in Israel in 2011. Golden Dragon's products for Israel had covered from luxury coach, intercity to city buses, particularly, the newly-designed CNG and pure electric bus, representing the highest quality of Golden Dragon. In 2015, against the continued global economic doldrums, the bus maker still maintained a fast growing momentum and up till now, it had totally exported over 500 units of buses to Israel.
U.A.E Star: Foton AUV BJ6852
FOTON AUV buses and coaches are fast becoming the preferred choice for tourism companies in the UAE market. The BJ6852 luxury bus is of higher specification and beautiful furnishing. The comfortable and reliable performance has acquired more and more customers. FOTON would like to supply more quality production and service to UAE in 2017. FOTON AUV shares the vision of leading technology to future and value with partner.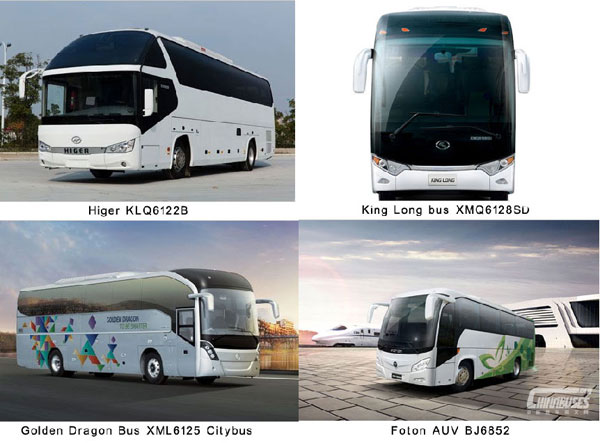 Europe Star: Yutong ZK6121HQ
For many years, bus makers from China had only dreamed of entering European market, where bus industry is originated. In addition, Europe boasts the highest bus manufacturing technologies. For the reasons above, the entry into European market is the highest standard for evaluating a bus maker's level of internationalization. Europe also boasts a number of internationally well known bus makers. In recent years, along with the rising status of China's buses in the global market, to conquer the European market is a must for all leading bus brands from China.
On Oct. 16,2015, all leading bus makers from China gathered at Kortrijk, a small town in Belgium to attend Busworld Exhibition, which is held every two years. Yutong, the leader of China's bus industry, brought nine buses on display to showcase its competitiveness in bus manufacturing.
Tang Yuxiang, president of Yutong points out, "for the internalization of Chinese brand, the products made in China must first be recognized in the global market." In 2004, Yutong officially started to enter European market. However, in the first seven years, the company had been cultivating the market in a quiet manner, only making small progress. Starting from 2011, its hard work has started to pay off. In that year, Yutong sold 114 units buses in Europe. In 2012, it's sales volume in Europe reached 200 units. In 2013, Yutong registered a bus sales volume of 383 units. In 2014, its bus sales volume stood at 277 units. To date, Yutong buses have made their presence in an increasing number of European countries, including France, UK, Spain, Italy, Norway, Sweden, Denmark and so on..
Paraguay Star: Zhongtong LCK6109DG
Zhongtong started exploring Paraguay in 2013. Its LCK6109DG, specially made for the market, well adapts to the road conditions in the country. With a much strengthened body structure and a newly added air-conditioning system, the vehicle provides passengers a more comfortable traveling environment. So far, the bus has sold nearly 300 units with a market share of 50%, beating all other bus brands from both China and Europe. In addition, Zhongtong has set up unparalleled after-sales networks to support its customers in Paraguay, making sure that every Zhongtong bus is providing safe, comfortable and reliable transportation services for local passengers.
Kuwait Star: Changan SC6901S
The SC6901 model bus bodies adopt popular modeling design, so it has reasonable maximum width and large space. It is suitable for shot-distance and middle-distance passenger transport like travelling and government activity.
Fiji Star: Bonluck JXK6127CC5R
Bonluck coaches went to welcome and transport the FIJI Olympians coming back from the Rio Olympic Games in 24th, August. They brought back for the whole country their first-ever Olympic Gold Medal. FIJI men's rugby 7s team had made history by defeating Great Britain.

The internationally co-designed models President 2 1400 and Cooper MK2 are unveiled in Fiji with highly captured attention locally on its way from Suwa to Nadi. The allied work of design takes one year before it's eventually launched recently with impressive appearance and empowered driveline. Both models have earned thumbed applause even prior to the final user drives them in service, Bonluck and his Fijian partner are heading to the right path in exploring highly equipped buses in Fiji.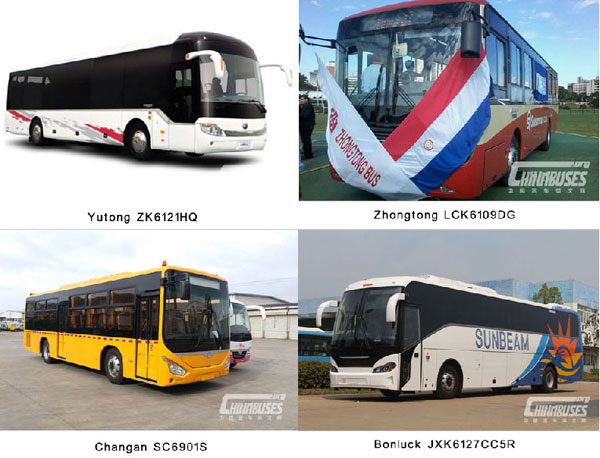 Philippine Star: Wuzhoulong FDG6111HEVG
Wuzhoulong got a big order of 300 units hybrid bus export of the Philippines in 2010, it was one of the largest orders of China's exports of new energy vehicles to the Philippines, showing the technological strength of Chinese new energy vehicles and strong signal of Chinese new energy vehicles to world .Thorough 10 years research and development, Wuzhoulong hybrid buses upgrades to the sixteenth generation, thousands of hybrid bus of Wuzhoulong brand put into demonstration operation in Shenzhen. With the advantages of stable and reliable performance , high efficient of fuel saving, Wuzhoulong hybrid bus welcomed by users. WuzhouLong hybrid bus operating well in Manila, Philippines currently, fuel-efficient rate up to 30% -35%, follow-up may also be an additional hybrid orders.
America Star: BYD K9
BYD has the World's Largest Electric School Bus Fleet in Stanford University, USA. After a successful trial operation in the campus in November 2012, Stanford University introduced a fleet of 23 electric buses to serve as a shuttle service.
Algeria Star: Ankai HK6118G
Ankai officially entered Algeria in 2013. One year later, it sold 1,100 units buses in one major deal. Ankai HK6118G, with semi-monocoque body structure, has passed CAE finite element analysis and features a lower body weight and higher fuel economy, making it an ideal choice for local bus operators.
Angola Star: Asiastar Bus YBL6123H
The sales volume of the buses sold to Angola has been reached almost 700 units since Asiastar entered this market in 2006. In the meanwhile, Asiastar is the only Chinese enterprise with the largest quantities of buses which are under regular operation in Angola in 2016. And among all the 18 provinces in the whole country, the end customers of Asiastar have the long-distance passenger transport lines ramified over 17 provinces and several international transit lines.
Exhilaratingly and euphorically, YBL6123H is another new series of luxury bus in the original intelligent design of Asiastar after it open the Angola market with YBL6986 bus. With the united research and development of Asiastar and Benz, this product continues keeping the quality of safety, reliability, comfort and intelligence, etc. of the Yaxing-Benz buses.
No matter in the past or in the future, Asiastar buses is dedicated to providing a comfortable and pleasant trip to the passengers with the support of people-oriented specification, reliable performance, safe and satisfactory environment and smart operation system. Additionally, the Asiastar people endeavors to afford the top-notch bus service to the clients all over the world by upholding the principle of design, power, craftsmanship and wisdom in the star-rated level.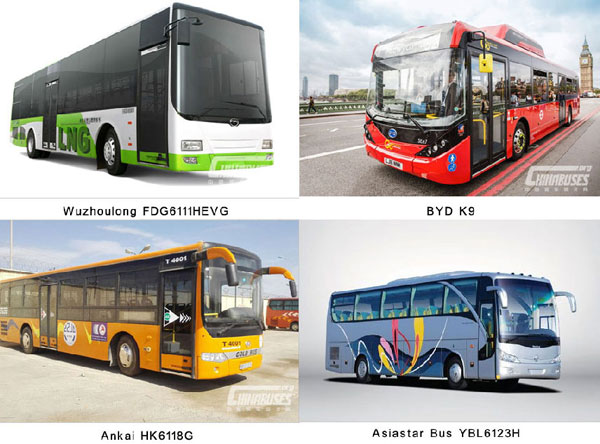 Pakistan Star: Sunwin SWB6180
SWB6180HF/LF BRT is the first choice for urban rapid transit. It can meet the requirements of large load, quick boarding and getting off the bus. Compared with metro, it has lower cost of infrastructure and maintenance. It's based on VOLVO technology and provide high-quality transit solution for the customer.
Till now, this model reached 200 units sales in Pakistan, BRT market occupation 100% in Pakistan.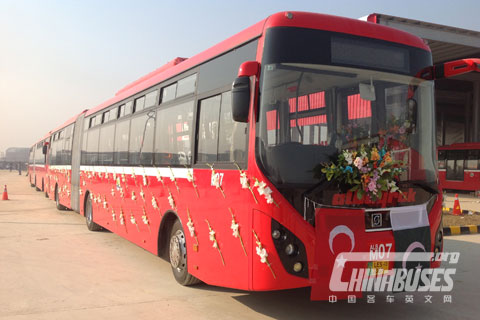 Sunwin SWB6180
Editor:
Related China Bus News