Yutong Actively Involved in Building Green Public Transport in Cuba
2016-11-04 Source:www.chinabuses.org
www.chinabuses.org: On October 31, the 34th Havana International Expo was held in Cuba. Exhibitors from over 75 countries attended this year's expo, making a new record in history. Yutong, the leading bus maker in China, rolled out a full electric city bus to the market, which attracted immediate public and media attention.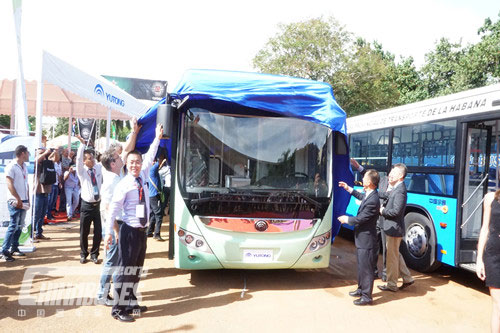 Yutong rolled out a full electric city bus ZK6125BEVG11 to Cuba market

In recent years, Cuba's economy has been maintaining a fast growing momentum. However, due to its shortage of oil resources, over half of the country's oil consumption, which chiefly goes to fuel various vehicles, depends on imports every year. For this reason, it has become a pressing issue for the government to improve its energy structure and make the nation less dependent on oil imports. The annual Havana International Expo provides a great opportunity for the country to tackle its energy challenges.

This year, Yutong has brought seven fist products to the much-anticipated expo, including city buses, tourism coaches, special vehicles, and engineering machineries, etc. Its new energy buses, in particular, offer a brand new manner of green transportation and give hope for the nation to cut its energy consumption and curb the increasingly severe urban pollutions.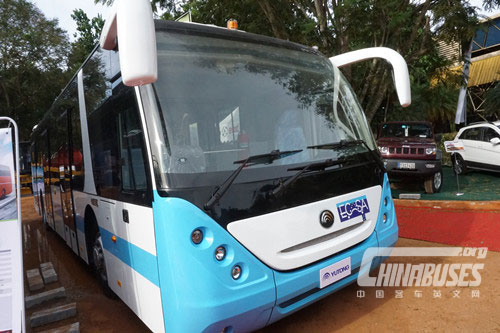 Ivan, an official from Cuba's Ministry of Transport and Transportation says that Yutong has made tremendous contribution for Cuba's public transportation sector. The arrival of Yutong new energy buses marks a new milestone, showing the bus maker's commitment to pushing forward the technological innovation in Cuba.

The full electric bus brought on display in Havana by Yutong is ZK6125BEVG11. With a power storage of 285kWh, the vehicle is able to drive continuously for 250km-300 km. It takes only 17.9 seconds for the bus to reach a speed of 50km/h from a standstill. Its maximum speed can reach 69km/h. The water-proof level of its power battery system reaches up to IP67. The average energy consumption for one kilometer is just 0.84kWh. In addition, the electromagnetic immunity of its controller is able to meet ISO's highest standards. No matter in operation or in recharging process, the vehicle has already realized intelligent management.

"We are planning to deliver our full electric bus on display to Havana Public Transport for trial operation without charge. In doing so, we hope our customer can gain a much deeper understanding of our products and we can deepen our cooperation in the new energy field," says Zhang Yaowu, General Manager of Yutong America Division.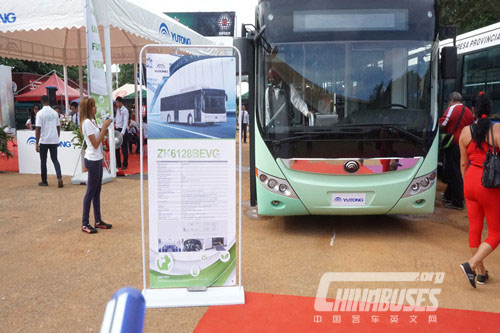 Yutong new energy bus ZK6128BEVG

Since Yutong's entry into Cuban market eleven years ago, a total number of 6,800-plus Yutong buses had already been put into service in the country as of August, 2016. Their consistently reliable performances and Yutong's timely after-sales services have already made the bus brand extremely popular in the country. Now, Yutong Cuba Business Mode, which fully integrates customer-tailored services, spare supply and marketing strategies, has become well known in the bus manufacturing industry. The innovative business mode, has not only delivered customer satisfaction, gained trust from customers, but has also created more added value for customers. Apart from exporting vehicles to Cuba, Yutong has also set up a CKD factory in collaboration with CAISA, a company attached to Cuba Ministry of Metallurgical Industry.


In 2015, Yutong's sales volume of large- and medium-sized buses reached 67,018 units, accounting for 15% of the global sales volume. It has been ranking the top position in the global market for five consecutive years.

As a pioneer in the new energy vehicle industry, Yutong started its research and development work of energy-saving and new energy vehicles in 1999. To date, Yutong electric buses have successfully made their way to a number of cities both at home and abroad. With an accumulated sales volume of over 20,000 units, Yutong is now ranking the first place in the global electric bus market. Having won international recognition, Yutong electric buses have been put into operation in a number of cities in Europe. In 2015, Yutong full electric bus, as the only vehicle brand coming outside of Europe, was displayed and promoted at the World Climate Conference.

In recent years, in response to the Central Government's call for Chinese Brands Going Out, Yutong has been actively involved in expanding its business in the overseas market. So far, it has formed six major markets abroad, including Europe & America, the Middle East, Asia-Pacific Region, Latin America, CIS, and Africa. In Cuba and Venezuela, Yutong has now become synonymous with high quality product, well representing China as a whole. In September this year when Chinese Premier Li Keqiang paid an official visit to Cuba, he took a ride with one Yutong bus in person and spoke highly of the brand's growing international influence.
Editor:
Related China Bus News