100-plus Wuzhoulong Airfield Buses Shipped to Saudi Arabia
2016-10-19 Source:www.chinabuses.org
www.chinabuses.org: On October 17, over 100 units Wuzhoulong airfield buses were shipped at Xinsha Port in Guangzhou and started their journey to Saudi Arabia, making a new record in China's history for exporting such type of vehicles to west Asia.

It is revealed that all these buses will be put into operation by Jeddah International Airport in Saudi Arabia after their arrival. Some VIP coaches specially tailored for distinguished guests will be at the service for the royal family in the country.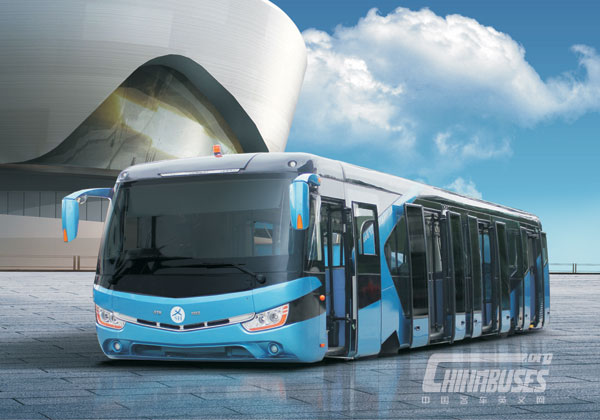 Wuzhoulong Airfield bus

As early as 2013, Wuzhoulong airfield buses made their way to Saudi Arabia. Thanks to their high reliability and unparalleled after-sales services, they have impressed many bus operators in Saudi Arabia and other Gulf states. To date, a total number of 218 units Wuzhoulong buses have been ordered to provide transportation services in the region.

In 2015, Wuzhoulong successfully passed GCC certificate from six Gulf states and TÜV test given by Germany, ushering a new era for the company's overseas business expansion, especially in UAE, Saudi Arabia, Iran and other nations in the Middle East. Currently, customers in Saudi Arabia has set up long-term cooperative ties with Wuzhoulong and are set to introduce more vehicles to their bus fleet.

"This year, we have been taking a series of measures to further improve the quality of our products and roll out fist products to our customers. Currently, all our research and development work is aligned with the latest European emission standards. Along with the implementation of One Belt One Road Initiative, we believe our company will continue to maintain fast growth in countries along the silk-road," says one of the sales personnel from Wuzhoulong.
Editor:
Related China Bus News