Allison Helps Russian Bus Fleet Reduce Fuel Consumption by 11 Percent
2016-08-08 Source:
www.chinabuses.org: A trial by Public Transport Enterprise No. 4, a 300-strong bus fleet in Kazan, that compared buses equipped with an automated manual transmission (AMT) and one equipped with an Allison transmission featuring FuelSense Max, has resulted in the Allison-equipped bus returning a fuel economy improvement of 11 percent.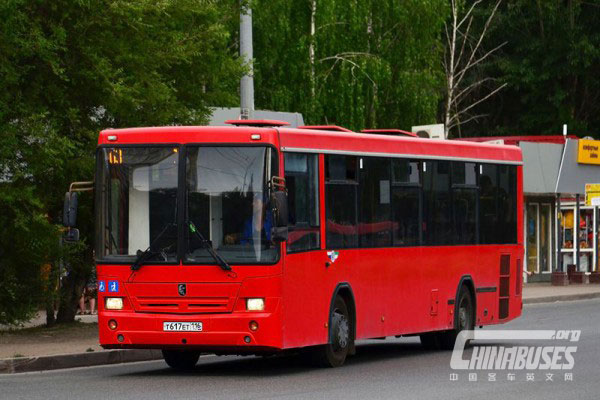 The bus used in the real life test on a city route was a Cummins diesel engine-powered NefAZ З5299-30-32. It was converted to a fully automatic Allison T310R transmission, with FuelSense Max package, with 223,045 km on the clock. FuelSense is a set of unique packages of software and electronic controls designed to improve fuel economy.
"During two days of testing, the bus with the Allison transmission made eight rounds daily (309 km total), consuming 112 litres of fuel," said Ruslan Suleymanov, deputy service and warranty director for Public Transport Enterprise No. 4. "A NefAZ bus with the standard automatic transmission driving the exact same daily route consumes 11 percent more fuel. The test showed that the Allison transmission provides a daily fuel reduction of 16 litres. On average, fuel consumption decreased from 41 to 37 litres per 100 km."
Another advantage of Allison transmissions is a prognostics system that monitors key diagnostics information and provides the driver with in-vehicle alerts. This eliminates unnecessary oil and filter changes, providing additional cost savings.
"The shift selector digitally displays key data, including oil level and status and a lot more, which is very convenient for the bus driver and maintenance specialists," said Suleymanov. "Furthermore, drivers reported that the NefAZ bus with the Allison is much more comfortable."
Public Transport Enterprise No. 4 is one of the oldest public transport enterprises in Kazan. It employs around 783 people, of which 413 are drivers. The enterprise operates a fleet of 304 buses from various OEMs. 273 buses operate on 23 regular public city routes, including two seasonal routes. Fleet renewal and fail-safe operation are key features of high-quality public transport service. Kazan is the capital city of Tatarstan and lies 820 km to the east of Moscow.
Editor:
Related China Bus News