Guilin Daewoo Sees Fast Growths in Its Exports
2016-06-01 Source:www.chinabuses.org
Summarize:www chinabuses org: Under the new normal', Guilin Daewoo has long come to realized that it can only survive
www.chinabuses.org: Under the "new normal', Guilin Daewoo has long come to realized that it can only survive and prosper by sharpening its differentiated competitiveness and taking full advantage of its geographic location.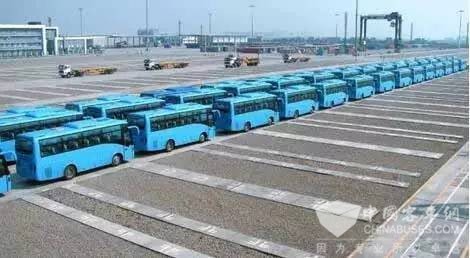 Thanks to its continued efforts, Guilin Daewoo realized an envious 10-15% growth in its overseas business in the first four months of this year. Despite its slender market share in the domestic market, the bus maker has been maintaining a fast growing momentum in its overseas business, attracting various media attention. Currently, it has already gained a solid position in Southeast Asia and the Middle East. In Vietnam, Philippines, Malaysia, Myanmar, Laos, Singapore and Thailand, the bus maker has set up stable cooperative ties with local bus operators.
The huge success achieved by Daewoo in the overseas market is chiefly attributed to the following two reasons. First, the company has been strengthening its overall after-sales services by providing tailor-made door-to-door customer care. Second, the high quality and reliability of Daewoo buses have become increasingly recognized by more and more customers.
Currently, Guilin Daewoo's 11-meter coach is chiefly targeted at the passenger and tourists transportation while its 9-meter bus mainly focuses on the urban public transportation sector. Compared with buses imported from Europe or the USA, bus operators have long found that Guilin Daewoo buses are not only more cost-effective and can better suit their special needs.
While maintaining a strong presence in Southeast Asia and the Middle East market, Guilin Daewoo is working relentlessly to expand in Africa. By taking full advantage of the global sales networks already set up by its parent company, Guilin Daewoo is aiming to further strengthen its overall competitiveness in the global market bus market.
In July or August, Guilin Daewoo will roll out its new versions of buses ranging from 8-meters to 11-meters in length. With more flexible designs, they are better positioned to meet customers' special needs.
Editor:
Related China Bus News