142 Guilin Daewoo Large Buses Exported to Vietnam
2015-08-18 Source:www.chinabuses.org
Summarize:Recently 142 units of Guilin Daewoo large buses have been exported to Vietnam This order demonstrates Vietnam market recognition of Guilin Daewoo products quality and brand influence, also an example of Guilin Daewoo's bucking the export market trend in the first seven months in 2015
www.chinabuses.org: Recently 142 units of Guilin Daewoo large buses have been exported to Vietnam. This order demonstrates Vietnam market recognition of Guilin Daewoo products quality and brand influence, also an example of Guilin Daewoo's bucking the export market trend in the first seven months in 2015.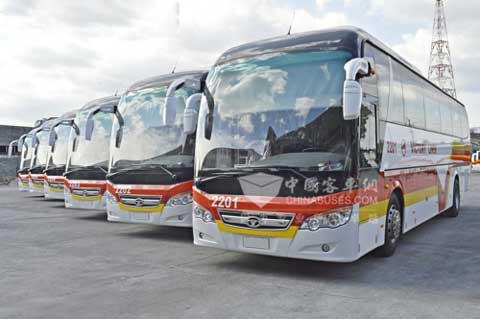 Exports in ASEAN Market Grows 13.6% Year on Year

In recent years, Guilin Daewoo taking geographical advantages of China and ASEAN countries, with flexible and diverse forms of cooperation and carrying out comprehensive and in-depth cooperation with ASEAN countries, annual exports are on the rise both in quantity and amount every year.

According to manager of Guilin Daewoo Overseas Business Department, in Jan.-Jul. 2015, exports of Guilin Daewoo buses grows 13.6% on the same period of 2014. It is noticeable that in Vietnam market, sales of Guilin Daewoo buses is growing at a pace of about 8% year on year with sales of nearly a hundred units every year.

In recent years, due to the increasing downward pressure on the domestic economy and intensified competition in the bus industry, Guilin Daewoo also faces great sales pressure. Facing the challenge, the company decided to further expand overseas markets and improve the overall competitiveness in foreign markets, in order to achieve steady development.

On one hand, the company has stepped up efforts to technology research and development that has developed a number of new bus models meeting the international market demand. On the other hand, for the continuous growth of overseas orders, the company has set up a special overseas sales service team and organized service personnel for the maintenance of vehicle and maintenance training. At the same time, the bus maker regularly invites technical representatives of foreign customers to give systematic training .

142 units of Guilin Daewoo buses exported to Vietnam this time are market tested models GDW6119H and GDW6117HK. Measuring 10.8 meters, GDW6119H are optional of 24 to 49 seats. Various engine models of both Daewoo and Yuchai are suitable for the bus model.

As a upgraded model of GDW6119H, GDW6117HK inherited its predecessor of endurance and energy efficiency. Besides, the bus model are forged with domestic well-known brands of steel boasting strengthened beam and high loading capacity front and rear axles. Equipped with international leading powertrain system and disc brake, the bus model has successfully passed the national safety rollover test, with excellent high-speed stability and security.
Editor:
Related China Bus News