70 Shuchi School Buses to Delivery Qingdao City
2012-09-18 Source:www.chinabuses.org
Summarize:On Sept 15th, in the bidding meeting of Shandong Qingdao Public Transportation on school buses,Yantai Shuchi Vehicle Co , Ltd ( Refer to Shuchi Bus ) won the 70 units of American "Big Nose " school buses order, with the total amount over RMB 22 million, which was the biggest school bus order in the bidding

www.chinabuses.org: On Sept. 15th, in the bidding meeting of Shandong Qingdao Public Transportation on school buses,Yantai Shuchi Vehicle Co., Ltd. ( Refer to Shuchi Bus ) won the 70 units of American "Big Nose" school buses order, with the total amount over RMB 22 million, which was the biggest school bus order in the bidding.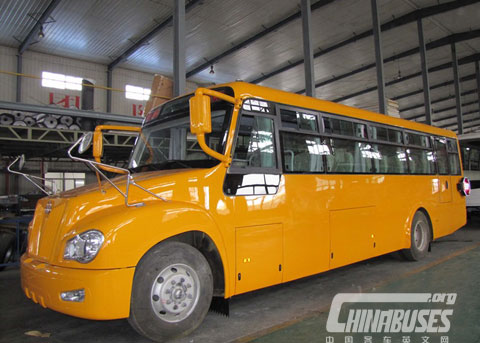 Shuchi School Bus--YTK6100AX

The American "Big Nose" school buses are 10 meters long and are manufactured by Shuchi Bus in Shandong Province. According to the technical personnel of Shuchi Bus, the Shuchi school bus uses environmental protection material to make the bus without pollution. It also creates a comfortable traveling atmosphere without noise. When the bus slowly stop, the parking sign arm on the left side would immediately open and the red warning lights marked "STOP" LED will be flashing, so the vehicle in the back will pay attention on it and keep away from the school bus.

On February 8th, 2012, the first Shuchi independent research and development of "Big Nose" school bus got offline which was made according to the Chinese national standard of the school bus. According to the vice-general manager Wen-Tao Jiang said, Shuchi Bus would produce about 6,000 units of "Big Nose" school buses. At present, there are all kinds of the school buses with different engines location, however, the "Big Nose" school buses show the better safety performance.
Editor:
Related China Bus News