Foton AUV Buses Provide Transportation Services for Delegates at China's Annual Two Sessions
2021-03-10 Source:www.chinabuses.org
Summarize:On March 4 and 5, China's National People's Congress and Chinese People's Political Consultative C
On March 4 and 5, China's National People's Congress and Chinese People's Political Consultative Conference officially kicked off their annual sessions, also known as the Two Sessions in Beijing. Five units BJ6117 electric buses and 38 units BJ6120 buses were put into service, providing greener and more comfortable travel for delegates.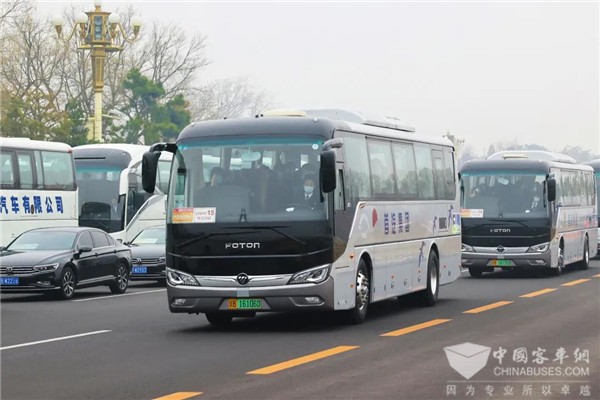 Foton AUV BJ6117 is equipped with an automatic transmission gearbox and Zhike intelligent vehicle management system. In addition, its ergonomically designed seats and luxurious interior create a more comfortable traveling space for passengers.
Foton AUV BJ6120 bus incorporates a unique design and achieves higher energy efficiency and environmental friendliness. Thanks to its adoption of some special materials, it generates less noise and creates a much more comfortable traveling environment for passengers. Equipped with i-POWER and e-AIR intelligent circulation system, the bus fully complies with China's National VI Emission Standards. So far, it has provided transportation services at several high-profile events.
As one of the leading bus makers in China, Foton AUV has been serving China's annual Two Sessions for 17 consecutive years. Boasting a wide range of new energy buses and coaches powered by electricity, hydrogen fuel cells or hybrid power, the bus maker is fully committed to promoting more environmentally friendly public transportation.
Editor:Mark
Related China Bus News