Golden Dragon Signs a Memorandum of Cooperation with Bishkek Municipal Government and VAKO Group
2021-02-08 Source:www.chinabuses.org
Summarize:Golden Dragon officially signed a memorandum of cooperation with Bishkek Municipal Government in Kyrgyzstan and VAKO Group
On January 29, Xiamen-based Golden Dragon officially signed a memorandum of cooperation with Bishkek Municipal Government in Kyrgyzstan and VAKO Group. Through a video conference, the three parties agreed to build a KD project in Bishkek to assemble Golden Dragon's city buses.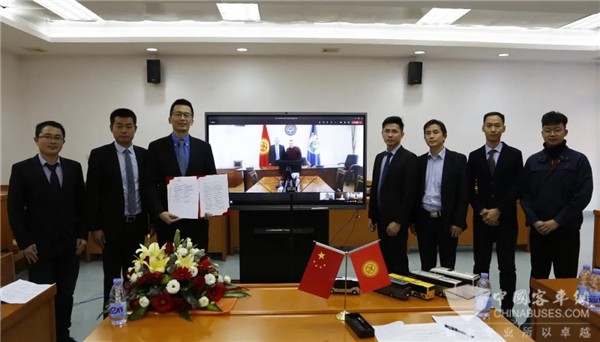 As the capital city of Kyrgyzstan, Bishkek is political, economic, transportation and educational center of the country. However, a well-connected public network is yet to be built. By working closely with Golden Dragon, the local government aims to greatly improve the public transport network in Bishkek, providing more travel convenience for local citizens.
Through the concerted efforts of the three parties, a bus factory is going to be built to realize localized production, which will roll out Golden Dragon buses to meet the travel needs of people in the country and provide more job opportunities for local people.
Editor:Mark
Related China Bus News