Golden Dragon Bus:A Decades-long Friendship with Philippine Customer
2020-12-30 Source:www.chinabuses.org
Summarize:We are so pleased to interview the Philippine distributor of Golden Dragon Bus, Let s share the story about China Golden Dragon Bus and Philippine CROSS COUNTRY MOTORS
Chinabuses.org:
We are so pleased to interview the Philippine distributor of Golden Dragon Bus, Let's share the story about China Golden Dragon Bus and Philippine CROSS COUNTRY MOTORS.

Philippine Customer: Our company CROSS COUNTRY MOTORS CORP. was incorporated in 2003, we are the first company to introduced China buses to Philippine market, It was not easy in the beginning, because during that time, the Philippine bus industry was dominated by Japanese brand and second hand Korean buses. Back then, It was really difficult to penetrate the market and it take a lot of patience and perseverance to finally take off and to be accepted in the bus industry, I can proudly say that today different China buses dominates our market and most especially our own GOLDEN DRAGON BRAND plays an important role in our transport industry. We are actually the leading brand as far as China buses are concern, we obtained our exclusive distributorship from Xiamen Golden Dragon to sell their buses for Philippine market in 2003, since then we have been their partner until the present and we are looking forward that this friendly relationship will last forever.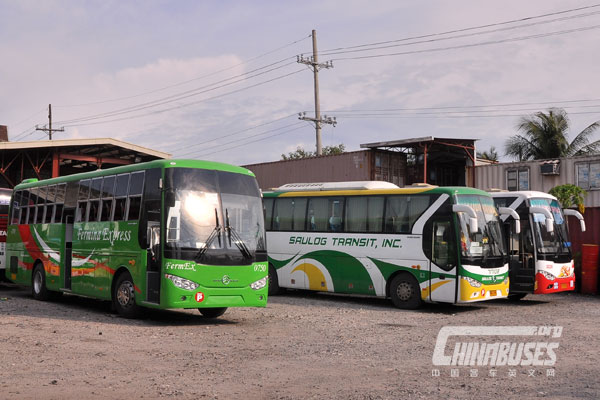 Chinabuses.org: When did you start following the development of buses & coaches made in China?
Philippine Customer: As a businessman, I tend to travel a lot and are so observant of what's happening in other countries, I have been comparing the transport industry in our own country which I can say is in a sad state, dilapidated buses are still running the streets, I begun to explore the possibilities of bringing in advanced, modern China buses to the Philippines, It take me a while to choose from so many brands available in China to finally chosed and consider Xiamen Golden Dragon is the brand that I want to carry, called it fate and since then, there's no turning back and after 17 years, our relationship with Xiamen Golden Dragon is as strong as ever.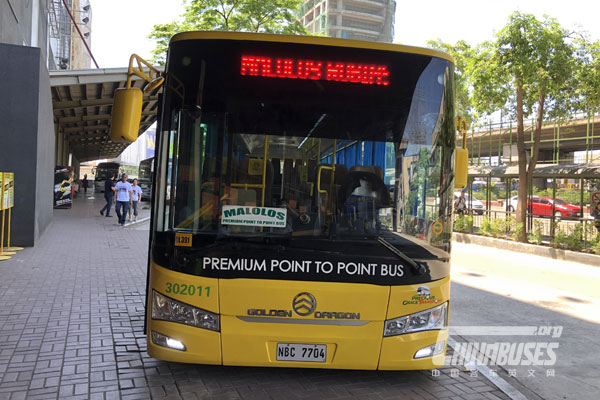 Chinabuses.org: What attracts your company to cooperate with Golden Dragon? Can you tell us how many buses & coaches you have already purchased from Golden Dragon?
Philippine Customer: As I have mentioned earlier, I believed that Xiamen Golden Dragon has a very good reputation to start with, they have a wide range of models of buses, coasters and vans, I am very confident with their products and the professional management team are so comfortable to work with, they are very supportive of the Philippine market from the beginning until the present, We are looking forward to continue to work with them hopefully forever. We have already sold thousands of units and expect to sell more, because currently, the Philippine government approved the modernization of the public transportation. Therefore, I expect that our business will even be better in the coming years.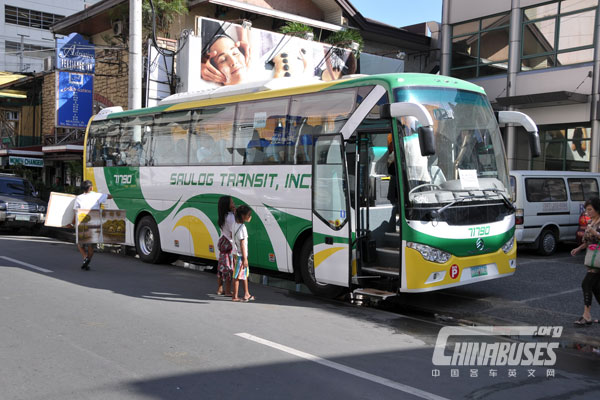 Chinabuses.org: Do you also distributes buses made from other countries? Compared with other international brands, what makes Golden Dragon stand out among them?
Philippine Customer: It never occur to me to even consider to distribute other brand from other countries, we will work hand in hand with Golden Dragon to expand the Philippine market, and we are proud to say that all our clients are extremely happy with our after sales service and availability of spare parts, To compare Golden Dragon with other international brand, I can say that in terms of price point, Golden Dragon is very reasonable considering its quality and the spare parts are also reasonably priced. The return on investment for our clients is better than other international brands, having said that, we want to satisfy our clients in terms of quality and price.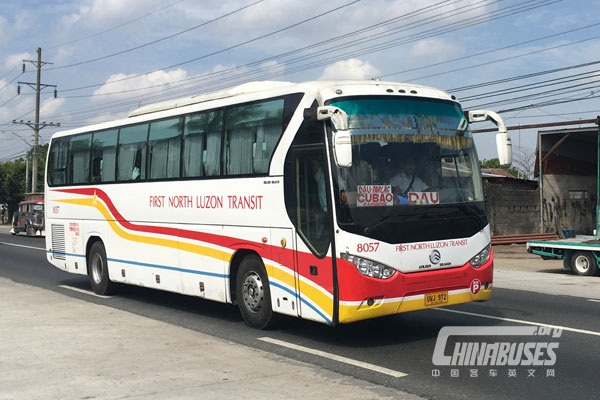 Chinabuses.org: Who are your major target customers? How do you market your products
Philippine Customer: Our major clients are the top operators of Philippine bus industries, We are very particular in choosing our prospective clients, we check their capacity to pay, their intended route, if they have legitimate franchises and even the character and personality of the owner etc. because we intend to stay long in this business and if we sell to the wrong clients it might affect our reputation as a reputable bus supplier, and we don't want that to happen to us, what do I mean by wrong clients? There are a lot of clients who operates as colorum, meaning for illegal public land transport in the Philippines,.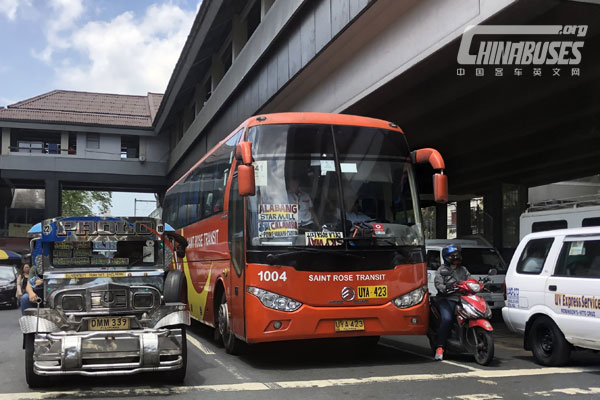 Chinabuses.org: Which is the best-selling bus model from Golden Dragon? What are its selling point ?
Philippine Customer: We don't really have a particular model that sell better than the other, I think because different model caters to different usage, that's why in terms of quantity sold, more or less all models are selling very good. I believed that our buses are beautifully designed and very appealing to the eyes of the riding public, in fact our clients are telling us that the passengers will really wait in the station just to take our buses because the bus is beautiful , the aircon is cold, they don't really mind to wait as long as they can ride in our buses, and it's music to our ears, hearing this kind of positive comments from the operators.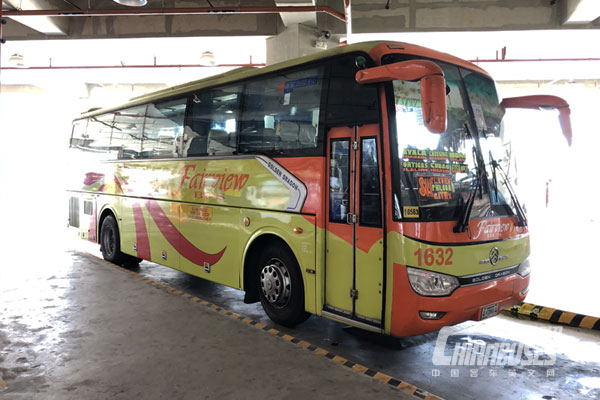 Chinabuses.org: Would you please tell us how you support your own customers? Do you receive any support from Golden Dragon?
Philippine Customer: We are always very proud of saying that our after sales service are very good, this is one of our selling points to our prospective clients, because we do understand the importance of every day lost on their income, that is why we always make sure to Par stock on our spare parts, our mechanics are always on a stand by mode to rescue operators in case their buses broke down in far away places,we are always on call 24/7 to help them if needed. And I can say that our clients are very happy with our after sales service. with regards to Golden Dragon support, they are very supportive by sending a technical personnel station in the with us, to assist our maintenance people, they make sure that spare parts are sufficient to service our clients.
Chinabuses.org: In your opinion, what are the challenges in the market at present? Are you planning to take some measures to remedy the situation?
Philippine Customer: At the moment, this will be a very challenging period for the transport industry, but I am still confident that there is still a very bright future for us to look forward to, considering that the Philippines is so optimistic to modernize the public transportation, even with this covit-19 crisis, the government assures the transport industry that the present situation will not derail the modernization program, I believed that it will just delay a bit until everything becomes normal, although after this health problem, we will definitely have a what you call a new normal, this problem right now is beyond anybody's imagination and hopefully this crisis will be over in the soonest possible time, until then, we just have to take one step at a time.
Chinabuses.org: Thank you for taking your time and sharing with us. We really appreciate it.
Editor:Isabella
Related China Bus News